If you are experiencing the issue where the LG content store is not working on your LG webOS smart TV, then you are not alone.
In this guide, I am going to show you how to troubleshoot the issue and get the LG content store to start loading in no time.
So, if that sounds like what you are looking for, let's dive right in!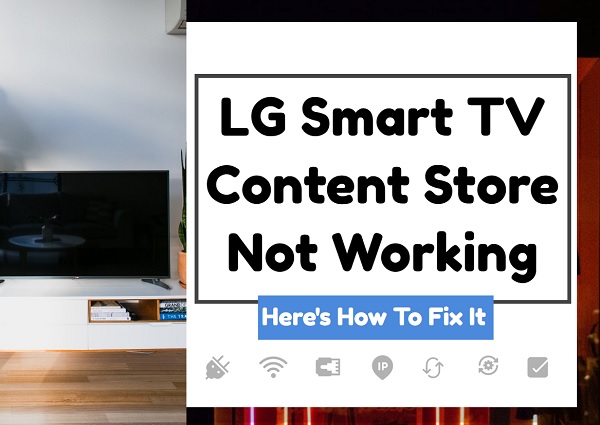 LG Content Store Not Working
If LG content store is not working, it can be as a result of network issue, incorrect DNS configuration, invalid region settings or software issues. You can fix it by power cycling your device, fixing network issues, changing DNS settings, updating software, and resetting your TV.
Now, let's look at each of the troubleshooting procedures one by one.
1. Power Cycle Your Device
The first thing you want to try when LG content store is not loading is to power cycle your device.
To do this, follow the steps highlighted below (in that order):
First, turn off your TV
Once turned off, unplug it from the power outlet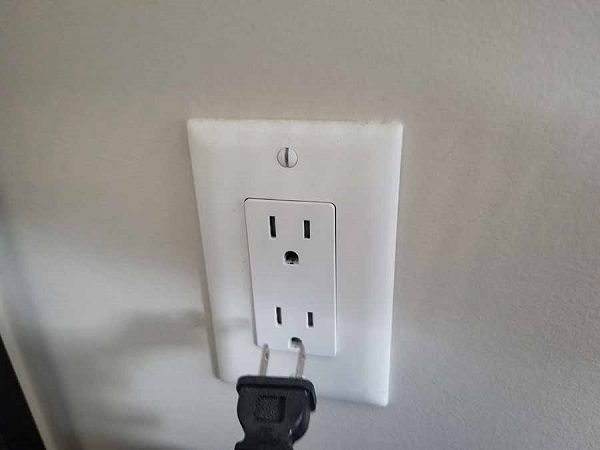 Press and hold the power power on your TV for 30 seconds
Unplug your router and modem, remove all HDMI and USB devices from the TV

Wait for 10 minutes
Plug back your modem, then router
Finally, plug your TV back into the power outlet
Now, try to access LG content store once again and the issue should be resolved. Otherwise, try the next troubleshooting tip.
---
2. Check & Fix Network Issues
Like I mentioned earlier, the content store needs a good internet connection to work properly and for the content to be available.
So, if you are experiencing the issue, it might be due to a slow Wi-Fi network or network communication issues between your router and TV (probably after an update or upgrade).
Therefore, if you are experiencing the issue while connected to Wi-Fi, you can try connecting your TV via ethernet cable. If that doesn't fix the issue, try connecting to a different network router or to your phone's hotspot (from a different service provider preferably).
If the issue still persists after using a different network (from a different ISP), then move on to the next step.
However, if you no longer experience the issue, then it's probably associated with your old internet service provider. In that case, you can login to your dashboard from your computer and check if there's any unusual change.
Alternatively, you can contact your Internet Service Provider (ISP) to help fix the issue.
---
3. Change DNS Settings
Most users who have experienced issues with LG content store have been able to fix it by changing their DNS.
This is most associated with an error that shows, 'content is unavailable, there is no page to load'.
You might see an error like Service is temporarily unavailable while trying to install or update apps such as YouTube, Amazon or Disney+ on LG content store.
In this case, network is connected but LG content store is still not working.
Fixing that is quite quite easy.
All you need is to change the connected network DNS to Google's public DNS (8.8.8.8).
You can effect the change of DNS by following the procedures below:
Press the Home/Start button on your LG TV remote to show the launcher bar
Click the Settings icon at the top right corner
Click All Settings option at the bottom right corner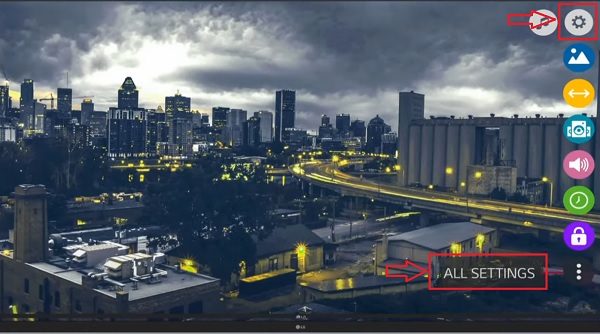 Click on Network from the left bar options
Select any of the networks that you are currently connected to (either wireless Wi-Fi network or wired ethernet network). The network must be showing connected to the internet at this point.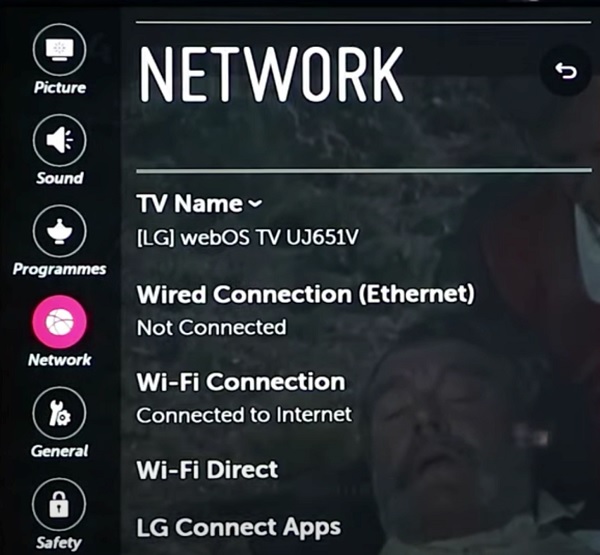 Now, we will edit the network settings.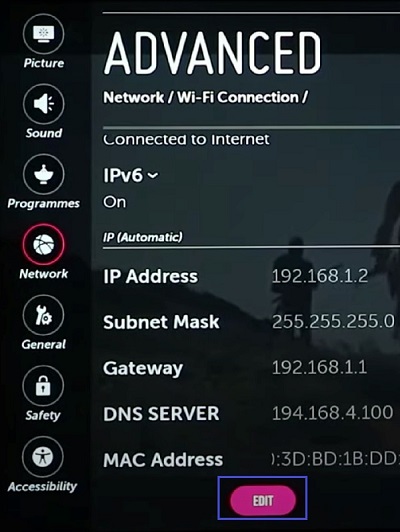 Uncheck the option that says Set Automatically
Then, edit the DNS Server and change it to 8.8.8.8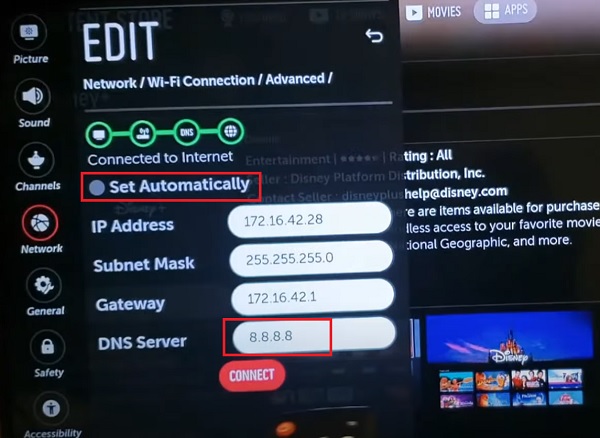 Now, the network should still be showing connected after effecting the change.
Now, go back to the LG content store. If the error still shows, click on OK, switch to TV and go back to the launcher to open the LG content store agin. The 'service is temporarily unavailable' error should be cleared by now.
---
4. Update Region Settings
If your LG content store is not loading, check the region settings to see if it is properly set.
The location might have been set wrongly, or in cases of specific apps, the application might not be available in your region due to streaming rights.
To check your region settings:
Press the Home/Start button on your LG TV remote to show the launcher bar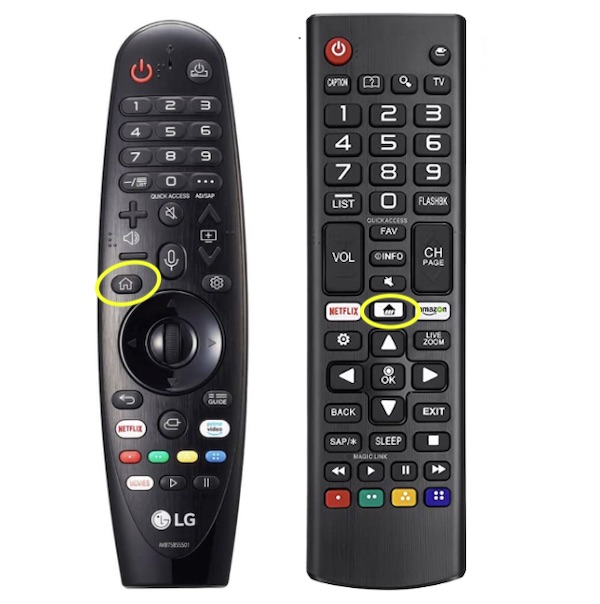 Click the Settings icon at the top right corner
Click All Settings option at the bottom right corner
Select on General from the options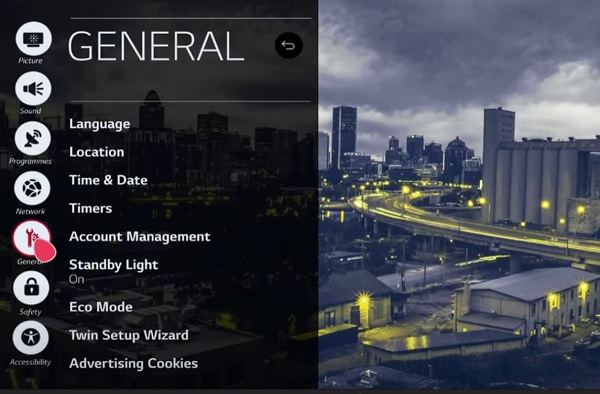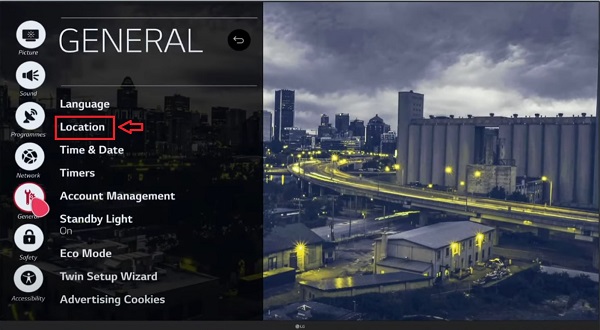 Enter your zip code and click Enter, your location information will be automatically updated.
You can also change Time & Date to 'Auto' from the General menu option.
---
5. Check & Install Software Update
The LG content store works via the WebOS.
In a case where your software/firmware is outdated, you might be experiencing an issue while trying to load or access it.
You may see the LG TV no content 15.43.af error message when you try to load the store.
To check for software update and install (if any), follow the procedures below:
Press the Home button on your remote
Click on the Settings icon from the top right corner, then click on the All Settings icon at the bottom right corner.
Go to General tab, then scroll down to About This TV section and click on it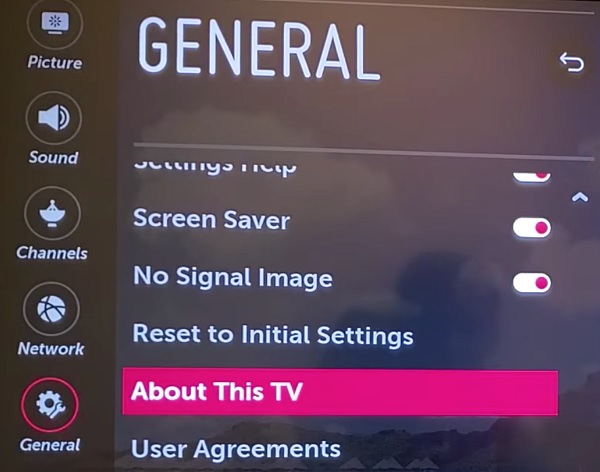 You will see the current software version of your TV, click on Check for Updates (you can also enable 'Allow Automatic Updates')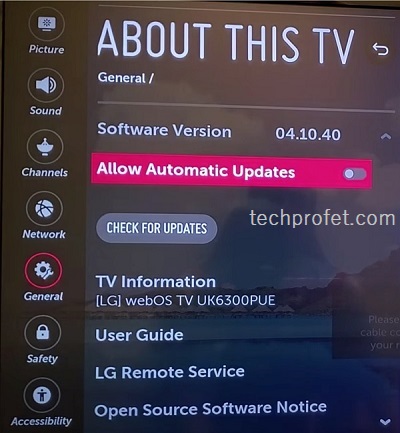 If there is any update available, proceed to download it and allow it to be install completely.

Once installed, your TV should reboot itself.
Now, your LG content store should be working properly.
---
6. Reset TV/Restore Factory Settings
If you have done all of the above and LG content store on your TV is still not working, then you should hard reset the TV (i.e restore factory settings).
During the course of using your TV, different files (including cache files) might have become corrupt and still remain in your TV software.
By resetting your TV, all these files will be cleared.
Also, resetting your TV will help you restore the default settings from when you first set it up.
Hence, if any unknown/hidden settings has been altered on your LG TV, this will fix that.
Now, here's how to reset your LG TV:
Go to Settings > All Settings > General
Scroll down and click Reset to Initial Settings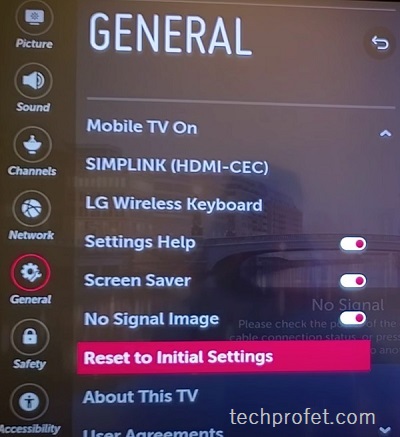 Confirm to go ahead with the reset.

Once the reset has been done, proceed to set up your TV from afresh while selecting all the appropriate options.
Make sure you are still connected to the internet, then you should be able to access the LG content store easily from here.
---
7. Contact LG Support
By now, the content store should be working on your LG TV (if you tried all the troubleshooting methods above).
However, if you still can't get it to work after trying everything above, then all you can do is to contact LG support.
If you are trying to access the LG TV content store and you are getting the error, "LG content store not available" while trying to install/update an app (e.g Netflix ,YouTube, Hulu, Amazon Prime Video, Disney+), then all you need to do is to change your connection network DNS server to Google's public DNS (8.8.8.8).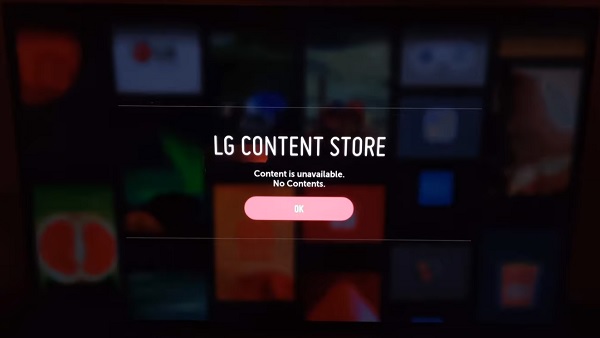 You may also see "no content 15.43.af" error message.
You can find the procedure to do that in one of the troubleshooting tips discussed earlier on this page.
Any of the troubleshooting methods discussed above can fix this app-specific issue.
In addition, when you are having an issue that is specific to a particular app, you can also remove/uninstall the app to remove any corrupt cache file that have built up with the app. Then, reinstall the app from the LG content store. Finally, check if the app has available firmware updates. If any, proceed to download and allow the update to be installed successfully.
Conclusion
If you followed all the troubleshooting tips in this article, your LG content store should be working perfectly well by now.
To wrap it up, if your LG content store isn't working, do the following to fix it:
Power Cycle Your Device
Check & Fix Network Issues
Change DNS Settings
Update Region Settings
Update LG webOS
Reset TV/Restore Factory Settings
Contact LG Support
That is all for now on how to troubleshoot LG content store not working issue. If you have any question, feel free to use the comment section below.
Also, if you found this troubleshooting guide helpful, do not forget to drop a comment below and also share with others. Let us know which of the tips above fixed the issue for you!