In today's guide, I am going to show you the updated list of the best web browsers for Roku TV in 2023, their pros, cons and everything you need to know before picking your own TCL or Hisense Roku internet web browser in 2023.
So, if that sounds like what you are looking for, then you are on the right page.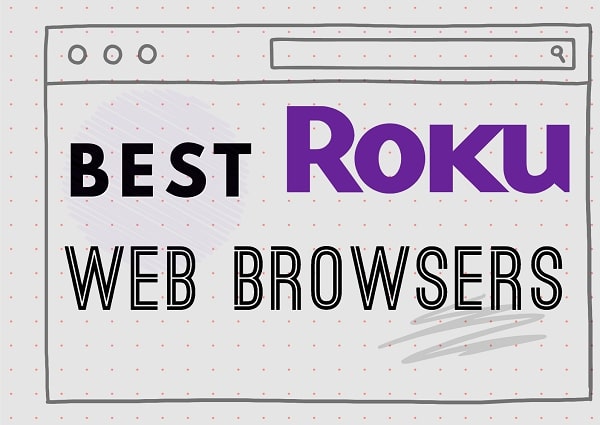 Roku is a brand of hardware digital media players manufactured by American company Roku, Inc, introduced first in May, 2008 and they offer access to streaming media content from various online services such as Netflix.
Does Roku Have a Web Browser?
However, while Roku offers access to streaming media contents online, it does not offer its own browser to surf the internet for other purposes. However, there are web browsers for Roku TV available on the channel store that you can use to access the internet.
The best part?
Most of them are actually free to use!
In this post, I am going to show you the top 5 best Roku web browsers in 2023 and how to access them.
If that interests you, then, let's begin right away!
Top 5 Web Browser for Roku TV 2023
Below are the best Roku web browsers in 2023:
Safari
Browser X
Therokuchannel
Web video caster
Emby Media
1. Safari Browser
Safari is a graphical web browser that is developed by Apple, popular found on Apple products such as Macs and iPhones. It is also one of the fastest web browsers on Roku TV. Hence, if you hate slow browsing like me, this is the way to go.
Safari browser is available on Roku store and can be added to your Hisense or TCL Roku TV to surf the internet.
While it is one of the most popular Roku web browsers available at the moment, it does not offer features close to the those of the well-known Safari browser by Apple as it is actually developed by a developer named Adrian using Roku Direct Publisher.
Hence, it can be understood why it has a low rating on Roku store.
Check out Safari Browser on Roku
---
2. Browser X
Without doubt, this is one of the best web browsers for Roku TV in 2023 developed by EndangeredScreens.com and the only browser that requires a monthly subscription to use on this list (it is free to use in some countries though).

I must say, the $4.99/month subscription is relatively cheap compared to the features you get with the browser.
With Browser X, you can surf the internet from your TCL or Hisense Roku device and access a number of websites and links.
The best part?
Unlike the older browsers that only deliver text or static-image screenshots of web pages, Browser X actually delivers fully rendered pages with clickable links.
Even more, you can add websites to your "favorites", and also make the current page your start page.
However, the downsides include inability to fill in website forms, and you cannot use it to play videos such as on YouTube.
Also, it is not free to use as it requires a $4.99/month subscription.
How to Navigate Browser X on Roku TV
Click the * button on your remote and you'll have the option to enter a URL or do a Google search
After a page loads, use the left and right directional buttons to move from link to link, and press "OK" to load that link. The up and down directional arrows will let you scroll through a page.
To use Browser X on Roku TV, you have to add the channel on your Roku device first. You can access the page to get the browser here.
---
3. Therokuchannel
Developed by Roku itself, this channel allows you to browse various media files on your TCL or Hisense Roku TV.
It gives you access to entertaining series, hit movies, TV shows, 24/7 live news (in U.S. and Canada only) and popular kids' entertainment – and it's totally free!
In addition, roku users in the United States can easily add 40+ premium subscriptions from SHOWTIME®, AMC+, STARZ, EPIX and more!
You can access it here.
---
4. Web Video Caster
Developed by InstantBits, it is regarded as the "number 1" mobile browser for casting videos (including movies, TV shows, live streams of news, and sports) to your TCL or Hisense Roku TV.
It also lets you cast local videos stored on your phone.
What's even more interesting?
It is compatible with iOS and Android devices.
With this Roku web browser app, you can easily cast videos, images and audio from the web browser on your iOS or Android mobile phone or tablet to your TV.
Hence, you get the same browsing experience as on your mobile devices, but on a bigger screen!
You can download Web Video Caster for iOS at here or for Android here.
Its rating on Roku store speaks for itself. Try it out and have fun!
---
5. Emby Media
Formerly known as Media Browser, Emby media is a suite of applications that will allow you to stream media from your computer to your Roku-connected TV (and other devices) through your local network. It is one of the best Roku web browser app out there, with a really beautiful, user-friendly interface.
You can useit to access media files on your local storage, listen to music, stream videos live.
It has a very nice modern interface that is very responsive and easy to navigate.
To use it, you will need to download Emby Media server on Roku and configure it.
Emby media supports many platforms with their many servers including Roku,
Bottom Line:
As Roku does not have a native web browser of its own, you can either use third-party web browsers that are mentioned above or use screen mirroring to cast the browser.
There were some other browsers on Roku TV that are no longer available. One of such is POPRISM browser (which is no longer available on Roku store) which was an experimental browser that lets you surf the web on your Roku device.
Poprism roku web browser app was just text-based, which means you couldn't view images, there were no graphical user interfaces, Javascript wouldn't run, and style sheets didn't work.
FAQs on Roku Web Browsers
Does Google Chrome support Roku?
You cannot find Google chrome app on your Roku TV store. However, you can use a screencast app to cast your Google chrome browser on your mobile phone to your Roku TV screen.
Does Roku have a web browser?
Roku does not offer a web browser itself, but you can use third-party apps or screencast method to access the web through your Roku device.
Why Does Roku Not Offer A Web Browser?
Roku was introduced to offer access to streaming media content from various online services such as Netflix. While providing their own web browser to access the internet will be no doubt be a big plus for users, we cannot say for sure why they do not offer such. Instead, they provided TheRokuChannel which you can use to browser and stream media files.
If you found the guide helpful, be kind enough to share it using the buttons below. What is your go to Roku web browser app in 2023 on your TCL or Hisense Roku device? Feel free to share your thoughts and feedback by using the comment section below!