If you are facing the issue with LG TV sound cutting out intermittently, then you are not alone. A lot of users have also been complaining about the frequent sound dropouts when using apps like Netflix, YouTube, Prime Video and others on LG smart TVs.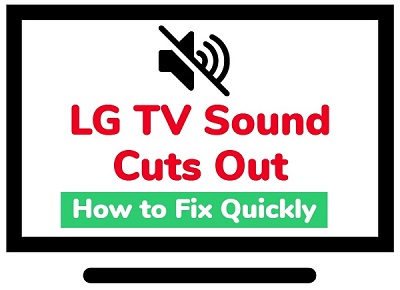 Usually, these dropouts happen via HDMI ARC and the sound works fine with internal speakers. Also, a lot of users reported that sound also works fine on Live TV even with ARC. You may also notice a delay in the audio when switching between channels.
After spending hours online researching looking for ways to fix this issue, I finally found a number of proven fixes that have worked for users who had the same experience with their LG TVs, which I am going to share with you in this guide.
Without any further ado, let's dive right into it!
LG TV Sound Cuts Out Intermittently
The most common reason for LG TV sound cutting out is use of non-premium or old HDMI cables. The fact that your HDMI cable is called premium does not mean it's a genuine premium cable. To fix this, you need to get a certified premium HDMI 2.1 cable.
However, there are at least 10 other ways to fix this issue. Therefore, if you've tried multiple HDMI cables already and the sound cut out still doesn't stop, then read on.
1. Reconfigure LG TV Sound Settings
Sound settings misconfiguration is one of the reasons why users experience intermittent sound dropouts on the LG smart TVs. In that case, you want to make sure your sound settings is properly configured.
Below are some sound settings to check that could fix your LG smart TV sound cut outs.
Turn Off Smart Sound Mode
First thing, you need to check if the Smart sound mode is turned on in your TV settings. If it is, you should turn it off first.
To do that, follow the procedures below: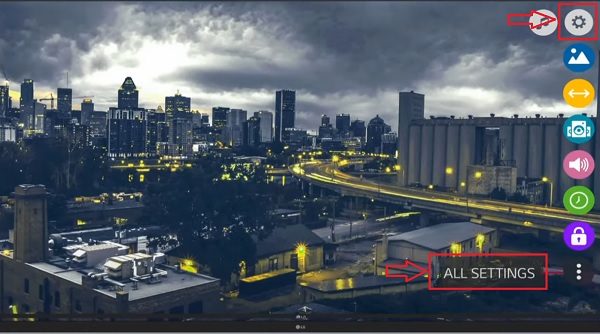 Click on the Sound tab toggle the Smart sound mode option and set it to turn it off.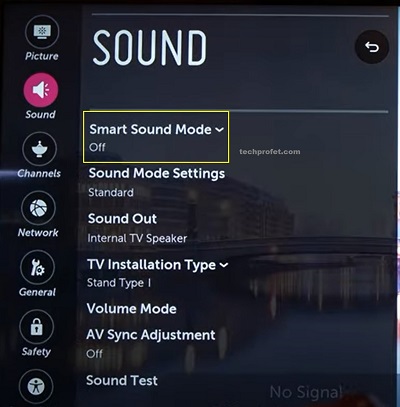 ---
Switch Digital Sound Out to PCM
Some users were able to fix this issue by switching the Digital sound out settings from 'Auto' to 'PCM'.
Again, you need to go to your LG TV sound settings via Settings > All Settings > Sound
On the Sound settings page, click on 'Sound Out'.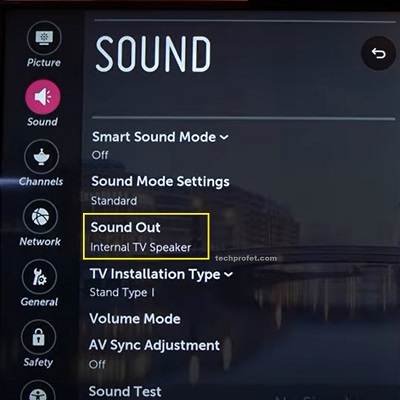 Click on Optical and set Digital Sound out to 'PCM'. Also, turn off LG sound sync option.
Once that is done, your LG TV sound should be working without dropping out for a second.
---
Still under the Sound settings, you need to turn off AV Sync and see if that fixes the issue for you. A user of the LG C9 reported that turning Sound sync off totally fixed the sound cut outs.
To do this, go to Settings > All Settings > Sound > Sound Out.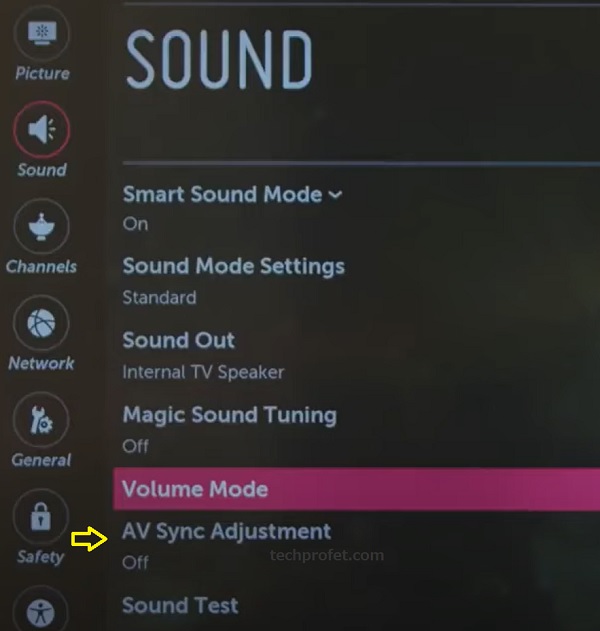 Toggle AV sync adjustment off
---
Digital optical doesn't support Dolby Atmos because it can't transmit the Dolby Digital Plus or Dolby TrueHD audio codecs.
Hence, if you are using the Digital optical option as shown in the previous tip, you should go ahead and turn off Dolby Atmos.
Go to Settings > Sound > Dolby Atmos. Finally, toggle it off.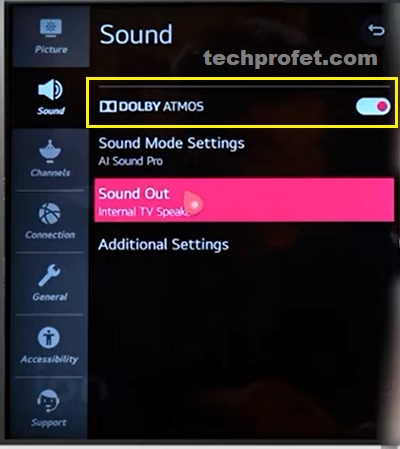 ---
There are various 'sound out' options available on your LG TV. Some users using the LG C1, C2 and C9 smart TVs reported that they only experience sound cut outs while using Dolby Digital or anything that has to do with TrueHD.
Other than the internal TV speaker, you also have the option to use Optical and HDMI ARC.
In particular, you want to use the Optical sound out option here. By doing this, you are totally forcing stereo mode only on your webOS smart TV.
At the end, if doing this fixes the issue and you stop experiencing dropouts, then the issue is narrowed down to the passing of Dolby audio over HDMI ARC on the LG TV. Otherwise, it may be coming from other sources.
---
2. Switch HDMI Port
If the LG sound dropout issue is coming from HDMI ARC, then you need to switch the cable to another HDMI port on the TV first. If the HDMI port is faulty, you may experience sound drops or in some cases, no sound at all on your LG smart TV.
So, try plugging the HDMI into a different port.
Also, make sure it is seated properly into the holes and is not shaking in any way to ensure good connection. In addition, make sure to switch the sound output settings back to the HDMI under sound settings on your TV.
---
3. Get a Premium HDMI 2.1 Cable
Use of non-premium HDMI cable has been the most common reason why users experience sound drops on LG TVs. As a result, a lot of users have been able to fix the intermittent drop outs by getting a genuine premium HDMI 2.1 cable.
There are different types of HDMI cables, and it is highly recommended that you use the Premium certified HDMI cable. You may also go for the Ultra High Speed HDMI cable.
By the way, the fact that your HDMI cable shows premium does not actually mean that it's a certified premium cable. With premium 2.1 HDMI cables, you get a higher bandwidth which provides more room for the communication protocol ARC and eARC required especially with high resolution audio.

This also explains why some users only experience the drop outs while playing Dolby Digital Plus or TrueHD Atmos.
All certified premium cables will display a Hologram and QR code on the package which can be used to confirm if genuine. This also helps avoid counterfeits.
---
4. Reset the AV Settings
If your LG TV sound is dropping for a second or more, resetting the audio/video settings can also fix it permanently.
To reset your LG TV AV settings, press the 'Mute button' on your LG TV remote controller three times. You will see a popup on your TV screen, click on Confirm to reset the audio/video settings. Once done, the TV should stop dropping.
If that fixes the issue for you, great! Otherwise, move to the next tip.
---
5. Power Cycle Your TV
If your LG smart TV the sound cuts out intermittently, you can fix the issue by power cycling or soft resetting your TV.
Here's what you need to do:
Unplug your LG TV from power outlet
Leave it unplugged for 60 seconds
Press the power button on your TV for 30 seconds.
Plug the TV back into the power source.
This process is also called soft reset.
The reason why the method works is because power cycling your TV will reset your TV (without deleting any data or changing any of the settings on your TV.
It also removes corrupt cache files from streaming Netflix, YouTube, Prime Video, Hulu and other channels on your LG smart TV.
---
6. Update TV System Software
Another proven way to fix the issue is to update your LG webOS software to the latest version.
To check for software update and install (if any), follow the procedures below:
Press the Home button on your remote
Click on the Settings icon from the top right corner, then click on the All Settings icon at the bottom right corner.
Go to General tab, then scroll down to About This TV section and click on it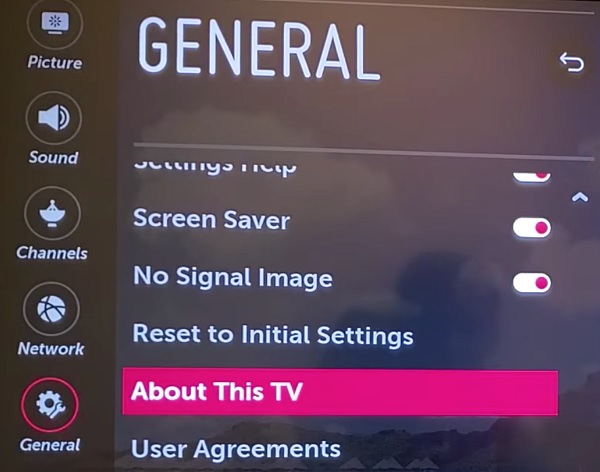 You will see the current software version of your TV, click on Check for Updates (you can also enable 'Allow Automatic Updates')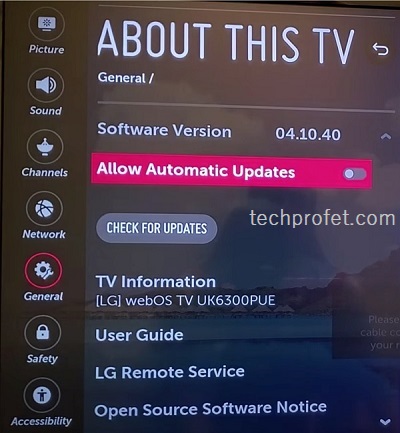 If there is any update available, proceed to download it and allow it to be install completely.

Once installed, your TV should reboot itself.
Now, your LG TV sound should work perfectly.
If you encounter any issue while trying to update your software, you can use the manual update method:
First, visit LG software & drivers support page from your PC by clicking here.
Enter your device model number to search for, then select it from the list
Insert a USB drive into your PC, create a folder name LG_DTV into the drive
Proceed to download the zip file of the latest firmware on your PC
Once downloaded, open the zip file and

extract

all the files into the 'LG DTV' folder created on your USB drive
Once extraction is completed, eject the USB drive from your PC and insert it into the USB port on your TV.
NOTE: The folder must be named exactly as shown above for your TV to look for it on your USB drive
If named properly, the TV will display USB UPDATE READY. Click on Install.
Once the installation is completed, power off your TV for 10 seconds and power it back on to complete the update.
---
7. Update AVR Software
If you have an AV receiver with an outdated software, you need to update the software to the latest version. Some users also reported that this helped fix the issue.
In these cases, there is an incompatibility issue between the LG TV and AV receiver. Through software updates, these issues have been fixed on some common receivers.
So, go ahead and check your AVR for available software updates and install it. Once done, the issue should be fixed for you.
---
8. Get an AV Receiver with ARC/eARC
This is a relatively expensive fix, but in some cases, it's the only way to fix LG TV intermittent drop outs. If your AV receiver is a bit old-gen, doesn't support ARC/eARC and none of the tips above fixed the issue for you, then you need to get a more new-gen AV (audio-video) receiver.
An AV receiver receives signals from various input devices like a VCR, DVD player or satellite dish, it interprets and amplifies those signals and then sends them to output devices like your television and sound system. It will serve as the central hub for your home theater experience.
Some of the best AV receiver out there include Denon AVR-X3700H, Yamaha RX-V6A, Yamaha RX-A4A, Onkyo TX-RZ50, Marantz SR6015, Sony STR-DH590, Panasonic JZ1500 and Marantz NR1711.
NOTE: A "7.2-channel" system means a receiver is capable of powering 7 main speakers (including surround), and has 2 subwoofers outputs, same way "9.2-channel" system means 9 main speakers and 2 subwoofers.
Most of the receivers I mentioned earlier also support the most advanced object-based audio formats like Dolby Atmos, Dolby Atmos Height Virtualization Technology, DTS:X, DTS Virtual:X and IMAX Enhanced processing.
More importantly, make sure to check the return policy is in place. That way, you can always return it and get a refund or a different receiver if one does not work for you. However, the receivers I've listed above all support ARC/eARC.
---
Bottom Line
If you LG TV sound cuts out for a second while streaming Netflix, YouTube or other channels, then there are a number of proven tips to fix the issue in 2023.
In most cases, getting a certified premium or ultra high speed HDMI cable will fix the issue and you will stop experiencing intermittent audio drop outs on your LG TV especially while playing Dolby Digital Plus or TrueHD Atmos.
If that doesn't fix the issue for you, do the following:
Turn off smart sound mode on LG TV
Switch digital sound out to PCM
Turn off AV sync
Turn off Dolby Atmos
Switch HDMI cable to a different HDMI port
Reset the AV settings
Power cycle your LG TV
Update the system software of the TV
Update firmware for your AV receiver
Get a new AV receiver with ARC/eACR
Let me know which of these methods fixed the intermittent sound drop outs on your LG smart TV for you in the comment section below.