In this guide, I am going to show you how to block YouTube ads on LG smart TV permanently in just 2 minutes!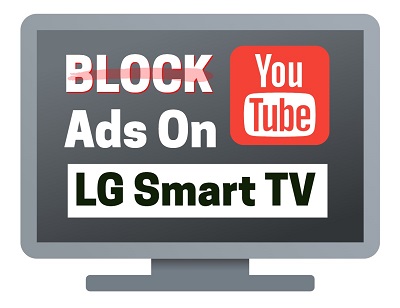 Believe me, I've been there and I know it's a very frustrating experience when you are trying to stream YouTube only to be bombarded with so much ads.
I don't intent to waste your time, so let's begin right away!
LG TV YouTube Ad Block
I had to look everywhere for LG TV YouTube ad block methods, and yes I did find more than one way to do that easily.
Best part?
Blocking YouTube ads using the first method takes just 2 minutes, and all you need is just your LG smart TV remote – nothing more!
Now, let's take a quick look at how to block YouTube ads on LG TV permanently in 2022.
How to Block YouTube Ads on LG smart TV
To block YouTube ads on LG smart TV, go to Settings on your LG smart TV, click on Advanced Settings, click on Network, select the network that you are currently connected to internet with (Wi-Fi or Ethernet), click Advanced Settings and change the DNS server value to one with ad block.
Yes, the first method is as easy as that.
Now, let's look at how to do that (with screenshots).
METHOD 1: Use Adblock DNS Server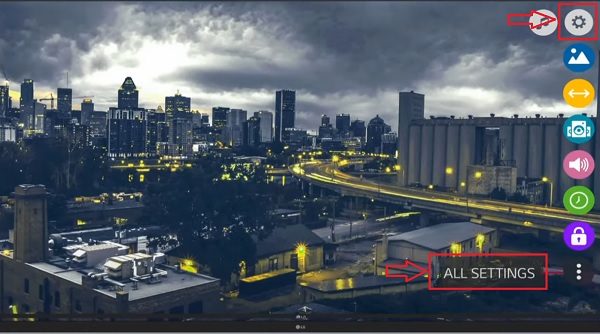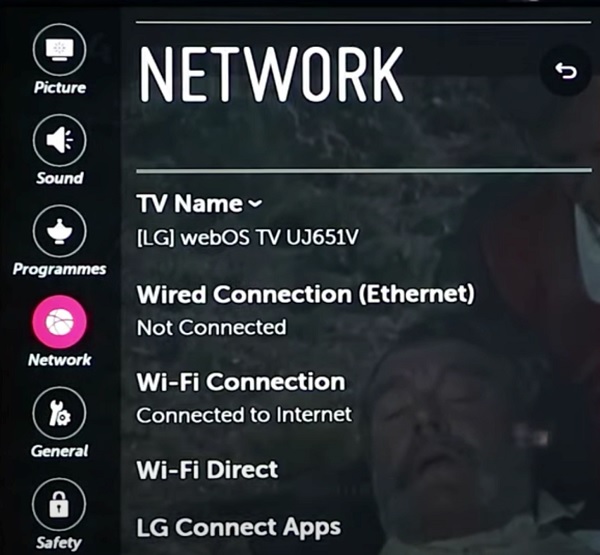 Then, click on the EDIT button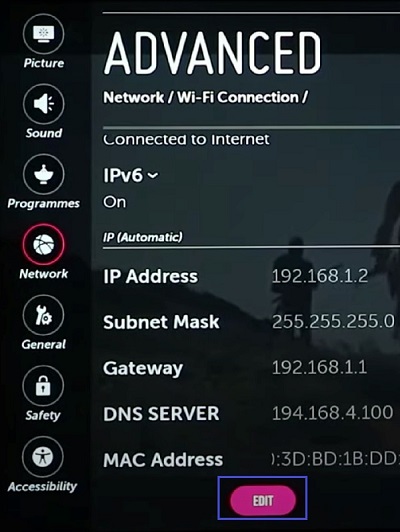 Uncheck the option that says Set Automatically.
Then, edit the DNS Server and change it to 94.140.14.14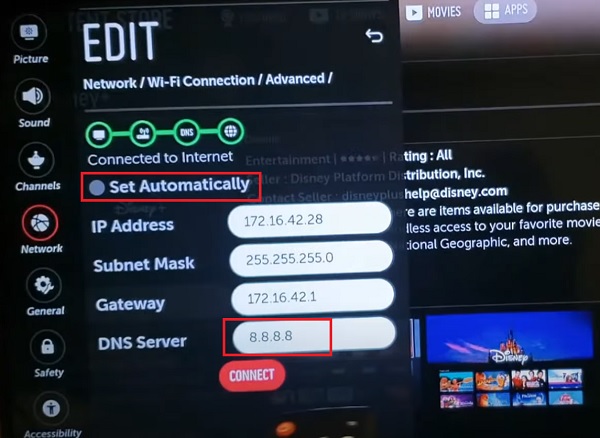 Now, go back to your LG TV, open the YouTube app and the ads will no longer show on your Smart TV.
Understanding How This Method Works:
The DNS server you changed to (94.140.14.14) is AdGuard DNS server. They offer an adblock service, and the way it works is they have a URL blacklist that blocks a number of URLs that these ads load from.
By changing your DNS server, you are essentially preventing these ads from loading on your webOS TV because the URLs they require to load have been blocked.
Therefore, these ads including YouTube ads are blocked on your LG TV.
METHOD 2: Manually Block Ads on Router using Firewall
You can also block YouTube (and other) ads in LG TV from your firewall.
In this method, what you are trying to do is block the URLs where LG TV ads load from.
It's kind of similar to the first method, expect that you are not making the change via DNS server here. Rather, you are block the URLs directly from your router firewall settings.
First, go ahead and login to your router dashboard via the login URL. 
Depending on the router you are using, you can find the login URL on the router label (some of the popular ones can be seen below):
Linksys – 

http://192.168.1.1

D-Link/Netgear – 

http://192.168.0.1

Belkin – 

http://192.168.2.1

ASUS – 

http://192.168.1.1/

AT&T U-verse – 

http://192.168.1.254

Comcast – 

http://10.0.0.1
Now, go ahead and look for the URL filtering or blocking section. Of course, the location will very depending on which router you use.
Irrespective, you should find it easily under the Firewall or Security tab.
Once you find URL filtering or blocking, add the following URLs:
ad.lgappstv.com
ibis.lgappstv.com
jp.rdx2.lgtvsdp.com
jp.lgtvsdp.com
jp.info.lgsmartad.com
lgad.cjpowercast.com.edgesuite.net
smartclip.com
smartclip.net
smartshare.lgtvsdp.com
us.ad.lgsmartad.com
us.ibs.lgappstv.com
us.info.lgsmartad.com
us.ad.lgsmartad.com
us.lgtvsdp.com
us.rdx2.lgtvsdp.com
yumenetworks.com
aic-ngfts.lge.com
ngfts.lge.com
lgad.cjpowercast.com
edgesuite.net
But, what's the catch?
The only issue here is that LG updates their ads URL from time to time. When this happens, you may start to see the ads again unless you update the list to include the new URL the ads are serving from.
Until then (and that can be a really long time), you will be free from these YouTube ads on your LG webOS smart TV.
METHOD 3: Subscribe to YouTube Premium
Both methods that have been explained above will block a lot of ads on your LG webOS smart TV, including ads that show when you are trying to watch YouTube on your LG TV (either before it loads or during streaming).
That said, you can also remove YouTube ads directly from YouTube that cause pauses in your streaming by subscribing to the YouTube premium version.
Once you login to your YouTube premium account from your LG smart TV, you can stream YouTube videos smoothly.
Combine that with LG ads blocked with using either of the first 2 methods? You are so good to go!
And there you have it!
By now, you should have successfully blocked YouTube ads on your LG TV once and for all.