In this guide, I am going to show you everything you need to know about Disney Plus on PS5.
More importantly, I will show you how to download, install and login to Disney Plus on PlayStation 5 gaming console in 2023.
If that sounds like what you are looking for, let's begin right away.
Is Disney Plus Available on PS5?
Yes, the Disney Plus app is available on PS5 gaming console. The streaming app came with the PS5 gaming console when it was launched in November 2020. While the app is not preinstalled on the console, users can easily download and install it from the media library.
Other than PlayStation console, the Disney Plus is also available on Android TV, Apple TV, Samsung Smart TV, LG Smart TV, Vizio SmartCast TVs, Roku, iPhones and iPads, Mac and PC browsers, Xbox and many more devices.
Therefore, if you can't find Disney+ on PS5 and you are wondering how to get it quickly, no need to worry. You can get it easily.
Now, let's look at how to install Disney Plus on PS5.
How to Download and Install Disney Plus on PS5
To add Disney Plus on PS5, go to the PS5 media tab, click on All Apps, scroll and click on the Disney Plus app icon and the app download and installation will begin. Once the download and installation is completed, click on the Open button to launch Disney Plus.
First, launch your PS5 and head to the Media tab from the top of the screen.


Click on the Disney plus app icon.
Your console will proceed to add it to the download library. You will see a prompt saying that it has been added to download.
You can also use the search box to look for the app.
Once the download is completed, it will be installed.
Once installed, you can go ahead and open it, login to your Disney Plus account on PS5 and then proceed to enjoy some good contents.
How to Login to Disney Plus Account on PS5
To activate your Disney Plus account on PS5, you will need to login to your account.
If you don't have an existing account, then you need to sign up for one.
To do that, click on the sign up button on your console after you open the Disney+ app.
Then, follow the prompt and enter your information.
Otherwise, if you have an account already, click on the LOG IN button.
On the next page, a URL will be displayed which you are to visit from your mobile phone or PC.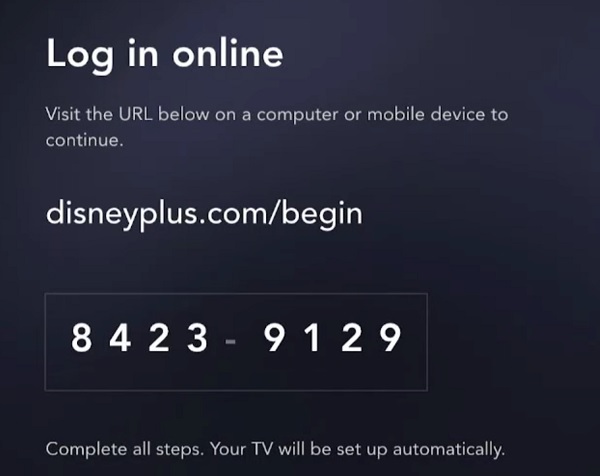 Enter the code on your mobile/desktop browser as shown on your TV or monitor screen.
Once you enter the code, your TV will be set and you will be able to start streaming Disney Plus on your PS5 console
Quite easy, right?
Where Can I Watch Disney+ on PS5?
Disney+ is currently available in the following regions:
Australia
Austria
Belgium
Canada
Channel Islands
Denmark
Finland
France
Germany
Iceland
India
Ireland
Isle of Man
Italy
Japan
Luxembourg
Monaco
Netherlands
New Zealand
Norway
Portugal
Puerto Rico
Spain
Sweden
Switzerland
United Kingdom
United States
Can't Find Disney Plus on PS5
If you are from a region without Disney Plus, you have to create an account for a region with Disney Plus e.g US.
However, if there is a region restriction on a particular series, there isn't any legal way to go around it. You can however use a VPN.
To use a VPN on your PlayStation 5 console, you need to connect to a Smart DNS.
You can get a smart DNS from premium VPN providers like ExpressVPN, NordVPN and SurfShark.
Once you have gotten the Smart DNS from any of the VPN providers, go ahead and input it on your console network settings.
To do that, go to Settings > Network > Settings > Set up Internet Connection.
Next, select either LAN or Wi-Fi network
Highlight your connection and press the Options button to bring up the options menu.
Click on Advanced Settings.
On the advanced settings page, set IP address to Auto, Set DCHP Host to Do Not Specify.
From DNS settings, select Manual and input the Smart DNS you got from your VPN provider. Click on Next.
Now, go ahead and Set MUT to Auto, set Proxy Server to Do Not Use, and select Test Internet Connection to verify your settings.
Disney+ Features & Subscription Plans
The streaming channel comes with many cool features, including but not limited to:
Shows and movies in up to 4K HDR (Dolby Vision) and up to Dolby Atmos audio. (NOTE: While Disney+ supports 4k, the app on the PlayStation 5 does not support 4K yet)
Supports simultaneous streams
A very simple and nice interface
Offers parental controls to restrict content
Offline viewing
To get unlimited access to the full Disney plus library and without ads, you need to subscribe to the premium plan.
The premium plan goes for $7.99 per month (or $79.99 annually) in the US.
PS5 Disney+ 4k Update 2023
A lot of users have been waiting for the release of 4K HDR (Dolby Vision) support for Disney+ on the PlayStation 5. However, the playback is still limited to 1080p for now.
The issue does not apply to Disney+ alone as it also applies to some other streaming apps on PS5.
According to a user on Reddit, Disney+ got an update on PS5 some few months ago and the 4k HDR option was available. A few weeks later, the app got another update on the PlayStation 5 and the 4k feature was taken away.
I guess the release wasn't stable and the team is yet to figure out a way to make the Disney+ PS5 4k feature work.
In the mean time, one way to stream Disney+ in 4k is via your smart TV.
RELATED:
Conclusion
Getting Disney Plus on PS5 is really easy. All you need to do is to go to the Media library, download it and wait for it to be installed. Then, go ahead and login with your Disney plus login code and you are good to go!
That is all for now. If you have any question or feedback, feel free to use the comment section below.
If you found the guide helpful, kindly share using the share buttons.