With the digitalization of games in modern time compared to what it was years ago, having a fast internet connection is now an important part of game. Whether it's to download a game or play even online games on your console, no one wants a slow internet.
So, what happens when you have a slow download speed on your PS5 even when your internet is fast, and how can you increase it considerably so that it takes way less time to download games?
In this guide, I am going show you how to improve the speed on a PS5 with slow download speed. At the end of this guide, your PS5 download speed should be up a couple of multiples.
Without any further ado, let's dive right in!
PS5 Download Speed Slow – How to Speed It Up
Below are 10 quick things you can do to improve the download speed on your PS5 console:
1. Troubleshoot Your Home Router
Before thinking there's something wrong with the PS5 itself, it might be a good idea to ensure the issue isn't from your side.
To be more specific, ensure it isn't because of your router or home WiFi network.
Now, there are a couple of ways you can do this:
Go to the console's network settings and ensure you're connected to the right router in case there are many routers in your house.

Next, power cycle your network router. To do that, turn off your router, leave it unplugged for 30 seconds and plug it back in. Turn it on, allow it to come online, then connect your console to it again. Go ahead and download, and the speed should have increased on your PS5.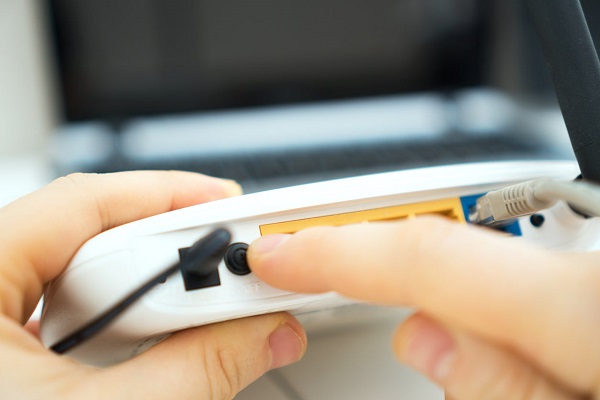 You can test your network settings before we proceed to the next step, because you will definitely see an improved speed after that.
To do that, go to Settings > Network > Connection Status > Test Network Connection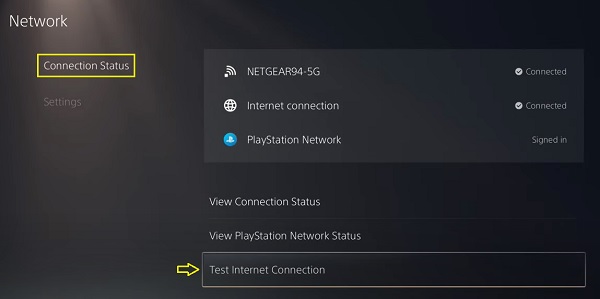 Once done, move to the next step.
---
2. Change DNS Settings
One of the most common ways to speed up PS5 download speed is by changing the DNS server to fast public DNS servers like Google's or Cloudflare's.
Here's how to do this:
Go to Settings > Network > Settings > Set Up Internet Connection

Select the registered network you are connected to, then click on 'Advanced Settings'

Switch the DNS settings to manual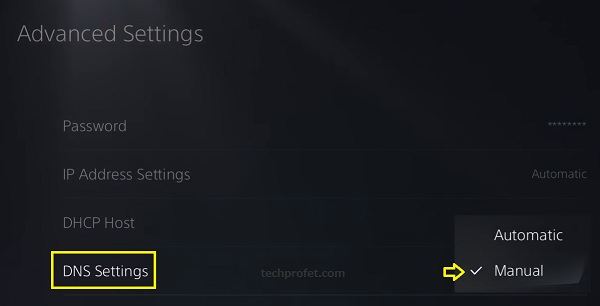 Under primary DNS, enter 8.8.8.8. Then, under secondary DNS, enter 8.8.4.4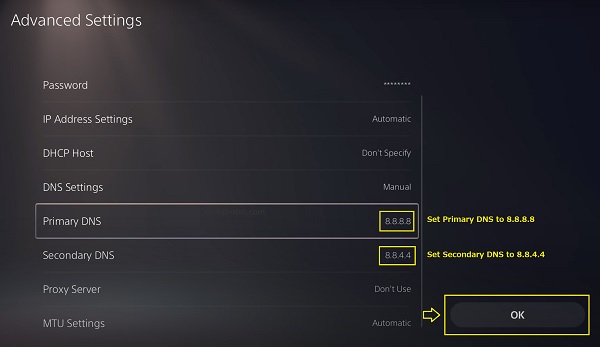 You may also try Cloudflare's DNS servers:
| | | |
| --- | --- | --- |
| Public Server | Primary DNS | Secondary DNS |
| Google | 8.8.8.8 | 8.8.4.4 |
| Cloudflare | 1.1.1.1 | 1.0.0.1 |
Other settings should also be left as see below:
| | |
| --- | --- |
| IP Address Settings | Automatic |
| DHCP Host | Do not specify |
| DNS Configuration | Manual |
| Primary DNS | 8.8.8.8 |
| Secondary DNS | 8.8.4.4 |
| Proxy Server | Do not use |
| MTU Settings | Automatic |
Once done, go ahead and check your PS5 download speed and it should have improved considerably.
---
3. Switch to 5 GHz to Speed Up PS5 Download Speed
If your router is close to your PS5 but you still have the Wi Fi frequency bandwidth set to 2.4 GHz, then that means the PS5 won't be able to utilize the full capabilities of your internet.
This is because 5 GHz is used to prioritize speed, while 2.4 GHz is used for distance. Therefore, you need to switch to 5 GHz frequency bandwidth to increase your speed.
Here's how to do that quickly:

Select Settings > Set Up Internet Connection

On the network you are connected to, press the options button, select Wi-Fi Frequency Band
Set the Wi-Fi frequency band manually to 5.0 GHz

---
3. Connect to a Wired Connection
Is your PS5 download speed still not fast enough? Wired connection might be the answer you're looking for!
Wired connection speeds are almost always faster than wireless speeds because of the fact that it's a direct connection.

With wireless there's a chance that other connected devices might interfere with your PS5's download speed, but not with a wired connection.
Also, there are other factors like higher latency, signal interference, signal drop etc., more commonly associated with Wireless connections.
To do this, you need to connect one end of your ethernet cable to your router and the other end to the LAN port on your PS5 console.
Here's a video showing you how to set it up:
---
5. Disconnect and then Reconnect Back
Although this might sound a little weird, sometimes disconnecting and then reconnecting from the internet seems to boost the download speed by a huge margin.
Here's how:
Press the Home button on the controller, press the Options button, and add Network to the quick menu.
Click Network on the quick menu, and click Network Settings
While on 'Connect to the internet option', Press the 'X' button to turn it off.
Press the 'X' button again to turn it back on.

The console will then automatically reconnect to the network, though this time with a better download speed.
---
6. Pause and Resume the Download
Similar to disconnecting and reconnecting to the internet, sometimes simply pausing and then unpausing a specific download that's taking place might speed up PS5 download speed for you.

It also has the added benefit that if, for some reason, the PS5 turns off while the download is taking place (you might forget to pause the download and simply power the PS5 off, or you might live in an area that has frequent load shedding) then when the console powers on again, the download will continue from where it was when you last paused it.
You could think of it as a sort of checkpoint for long downloads and people with slow download speed.
---
7. Download in Rest Mode
Many players have claimed to have seen a massive improvement in their PS5 download speed when keeping it in rest mode.
This is because the console is able to run at minimum power, and all other programs that might use the internet are all on hold.
Therefore, the ongoing download becomes the only focus of the console, resulting in an improved PS5 download speed.
To put your PS5 on rest mode, you have to:
First, press the PS button on the DualSense controller.

Then, scroll to the far right to the power icon and click it.

Finally, select 'Enter Rest Mode'
WARNING: Be careful not to unplug the power cord or do anything else that might abruptly power off the PS5 while in rest mode as that might lead to software damage or data corruption.
To bring your PS5 out of rest mode, simply press the PS button on your DualSense controller.
---
8. Minimize Traffic On the Network
It might be a good idea to disconnect any idle devices that are connected to the internet, as doing so will minimize the traffic on the network.
This has a chance of improving the download and upload speed the rest of the devices connected to that network receive.
Similarly, if you're downloading something on a different device, then consider keeping it on pause if you want to prioritize the download ongoing on your PS5.
If you know someone else in your household who also has something kept on download, then either ask them to pause that download or, more preferably, wait for them to finish their download and then resume your PS5 download. This should speed up the PS5 download speed.
Finally, you might be wondering, "does playing a game slow download speed?" I'll say it really depends on what type of game you're playing.
If you play a game that requires constant internet connection, then that might result in a slow PS5 download speed since your internet will be used elsewhere as well.
---
9. Reset Your Router
Sometimes the issue might be solved by simply restarting the router as explained earlier.
However, if that didn't improve your download speed, then try resetting the router as a last ditch effort to improve your speed.
Although every router has a different way of resetting it, most of them have a small hole at the back of the router where you can insert a pin or a similar thin object to press and hold the tiny button inside.

Of course, after resetting the router you'll have to set it up again. Remember to confirm that the device's initial wireless password is written down either on the router itself or on the box it came in, otherwise, you might have issues connecting to it again.
---
10: Consider Upgrading Your Internet Package
Finally, if you've tried everything but weren't able to improve your download speed, then it might be that your internet package simply does not allow for your internet to be any faster than it already is.
In this case, it might be a good idea to upgrade your internet package.
What internet package is recommended for you depends on several factors like how many people are in your household, how often you keep things for download, and the average size of the games you're intending on downloading.
With that being said, when taking into consideration the average size of games on the PS5, I recommend you have anywhere between 50 to 100 MBPS.
Not only will this be a good speed for downloading games on the PS5, but it'll also be good for online gaming.
I hope some of these troubleshooting methods were able to help you with your slow PS5 download speed.
Let me know which of this methods helped improve your PS5 download speed, and how much of an improvement you saw in the comment section.