In this guide, I am going to show you everything you need to know about HBO Max on PS5. More importantly, I will show you how to download, install and activate HBO Max on PlayStation 5 gaming console in 2023.
If that sounds like what you are looking, let's begin right away.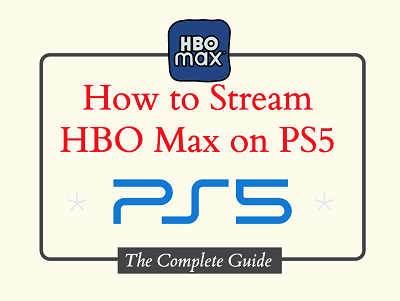 HBO Max is an American subscription video on demand (SVOD) service owned by Warner Bros. Discovery, which now succeeds both HBO Now and HBO Go with over 70 million subscribers globally. It is one of the company's two main streaming services, the other being Discovery+.
Is HBO Max Available on PS5?
Yes, the HBO Max is available on the PS5 gaming console. The HBO max app came with the PS5 gaming console when it was launched. While the app is not preinstalled on the console, users can easily download and install it from the media library.
So, if HBO Max is currently not showing on the media library, no need to worry. You can get it easily.
The streaming service features 10,000 hours of premium content bundling all of HBO together with even more movies, shows, and Max Originals for the whole family, including Friends, South Park, The Big Bang Theory, Peacemaker, Hacks, Wonder Woman, the Studio Ghibli collection, and more.
Now, let's look at how to install HBO Max on PS5.
How to Download and Install HBO Max on PS5
To add HBO Max on PS5, go to the PS5 media tab, click on All Apps, scroll and click on the HBO Max app icon and the app download and installation will begin. Once downloaded and installed, click on the Open button to launch HBO Max.
First, launch your PS5 and head to the Media tab from the top of the screen.


Click on the HBO Max app icon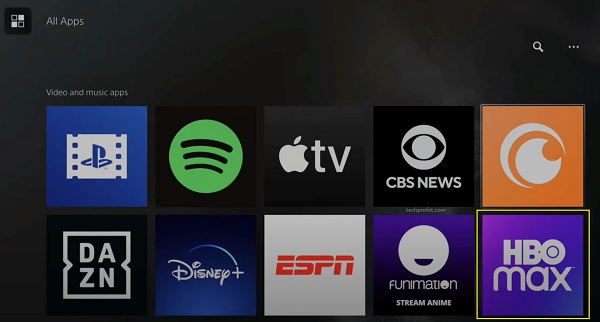 Or you can search for HBO max using the search icon at the top right corner
Next, click on the download button, and the download will begin. Your console will proceed to add it to the download library. After a few seconds, it will be installed.
RECOMMENDED: PS5 Download Speed Slow (How to Improve it Quick!)
Once installed, you can go ahead and open it by clicking on the "Start" button and then login to your HBO Max account on PS5 to start streaming.
How to Login to HBO Max Account on PS5
To activate your HBO Max on PS5, you will need to login to your account.
If you don't have an existing account, then you need to sign up for one. Creating an account is totally free, but you need to subscribe to any of the premium plans to access and stream HBO max.
To do that, click on the "Subscribe now" button that shows when you try to stream any movie.
If you have any account already, click on "Sign in" button on the same page. You can also register or subscribe on your phone/PC here.
Then, enter your HBO Max account details (email address and password), then click on Sign in
There! You should now be able to stream HBO max contents on your PlayStation 5 console.
NOTE: Since HBO Max is the combination of both HBO Go and HBO Now, most subscribers who were using the HBO Go or HBO Now app can simply use their same account information to sign in to HBO Max instead.
Where Can I Watch HBO Max on My PlayStation 5?
Currently, HBO Max is available in the following countries:
Åland Islands
Andorra
Anguilla
Antigua & Barbuda
Argentina
Aruba
Bahamas
Barbados
Belize
Bolivia
Bosnia
Brazil
British Virgin Islands
Bulgaria
Canary Islands
Cayman Islands
Ceuta
Chile
Colombia
Costa Rica
Croatia
Curacao
Czech Republic
Denmark
Dominica
Dominican Republic
Ecuador
El Salvador
Faroe Islands
Finland
Greenland
Grenada
Guatemala
Guyana
Haiti
Honduras
Hungary
Jamaica
Kosovo
Madeira
Melilla
Mexico
Moldova
Montenegro
Montserrat
Netherlands
Nicaragua
North Macedonia
Norway
Panama
Paraguay
Peru
Poland
Portugal
Romania
Saint Kitts and Nevis
Saint Lucia
Serbia
Slovakia
Slovenia
Spain
St. Vincent and the Grenadines
Suriname
Svalbard & Jan Mayen
Sweden
Trinidad & Tobago
Turks and Caicos
United States (including American Samoa, Guam, the Northern Mariana Islands, Puerto Rico, and the U.S. Virgin Islands)
Uruguay
Venezuela
Over time, the streaming service will be available in more regions.
Can't Find HBO Max on PS5
If you can't find HBO max on PS5, then you probably have an account in a region that's geo-restricted from viewing HBO max.
What you can do is to use VPN to change your location.
To use a VPN on your PlayStation 5 console, you need to connect to a Smart DNS.
You can get a smart DNS from premium VPN providers like ExpressVPN, NordVPN and SurfShark.
Once you have gotten the Smart DNS from any of the VPN providers, go ahead and input it on your console network settings.
To do that, go to Settings > Network > Settings > Set up Internet Connection.
Next, select either LAN or Wi-Fi depending on which you are connected to.
Highlight your connection and press the Options button to bring up the options menu.
Click on Advanced Settings.
On the advanced settings page, set IP address to Auto, Set DCHP Host to Do Not Specify.
From DNS settings, select Manual and input the Smart DNS you got from your VPN provider. Click on Next.
Now, go ahead and Set MUT to Auto, set Proxy Server to Do Not Use, and select Test Internet Connection to verify your settings.
Just like that, you will be able to stream Prime Video on PS5 from other locations.
Another alternative is to create an account for a region with HBO Max e.g US.
---
HBO Max Features & Subscription Plans
Other than having the most expansive anime content library in the world, HBO Max offer some really cool features like:
Content library containing thousands of hours of series, movies, and exclusive originals
Streaming up to 4k quality (only on the ad-free subscription plan)
Offline downloads
Subscription Plans:
HBO Max offers two premium plans:
One ad-supported plan for $9.99 per month or $100 annually.
One ad-free plan that costs $14.99 per month or $150 annually.
Whichever it is you are currently subscribed to, or plan to subscribe to, you can use any of them to sign in to your PS5 console and enjoy the host of great shows and movies.
Conclusion
Getting HBO Max on PS5 is really easy. All you need to do is to go to the Media library, download it and wait for it to be installed.
Then, go ahead and login with your HBO max account and you can enjoy as much anime as possible on your gaming console easily.
That is all for now. If you have any question or feedback, feel free to use the comment section below. Also, kindly share the content by using the share buttons.