You are using your PS5 console or you put it in rest mode only for it to show a green screen of death with an annoying sound and then turns off. Then, you try to reboot it but it won't turn on. Sucks, really.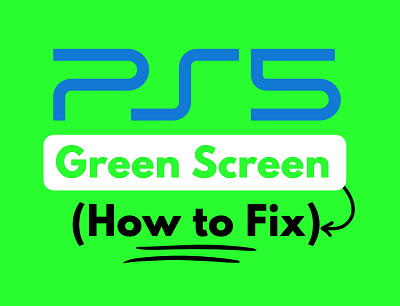 While the PS5 green screen and crash has been noticed to be more likely to occur when you put your console into rest mode in the middle of a game, It can also happen if you close a game/app before putting it into rest mode, or even if you allow it to go into rest mode naturally after some minutes of inactivity.
Even worse?
You can also experience the issue in the middle of a game even if you've never put your console in rest mode, even on a new console! This issue has been reported on games like GTA, Fifa 22, Fifa 23, Elden Ring, COD, Fortnite, god of war, and many more.
It's gets even more scarier when you think about the possibility of your PS5 getting bricked as a result of this issue.
In this guide, I am going to show you how to fix the the PS5 green screen and crash issue in 2023. Let's dive right in!
How to Fix PS5 Green Screen
You can fix the PS5 green screen of death issue by reseating your HDMI cable, switching your TV picture mode, deleting corrupt data on your console, resetting your TV, ensuring your console is in a well-ventilation area and by contacting Sony to request for a fix.
1. Reseat the HDMI Cable
One of the things that can cause the PS5 green screen is an improper HDMI connection either on your PS5 console or your television.
What you want to do is to unplug the HDMI cable from the HDMI port, and plug it back in.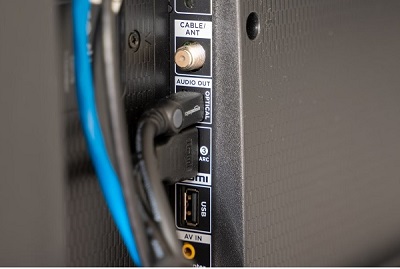 Some users have reported that they were able to fix the PS5 green screen issue by doing this.
You can do the same thing for your HDMI on your TV end.
Also, if you TV has more than one HDMI port, you can change the port where the HDMI is seated on the TV.
If done right, you screen could return back to normal and the issue should be fixed.
Otherwise, try the next troubleshooting tip.
---
2. Switch to a Different Picture Mode on TV
Some PS5 console users have been able to fix the PS5 green screen issue by switching their TV picture mode especially after the last update on the console from Sony.
A lot of TV brands like Samsung, LG, Sony, Vizio and more offer various picture modes like Movie, Sports, Dynamic, Vivid, Standard and Game.
Each of these picture modes have a default settings for various aspects of your TV screen settings like color temperature, backlight, motion interpolator, sharpness, gamma and others.
When you select any of these picture modes on your TV, any or more of these aspects will be automatically adjusted to give you the best screen experience.
The best one though depends on what or when you are trying use your TV for at the moment.
Hence, there is no "best overall" picture mode. Instead, it depends on what you are trying to do.
What you want to do is switch through the different picture modes on your TV. You will probably also find a particular picture mode that works perfectly well with your console without the PS5 green screen of death issue. This can also help you fix the black screen of death issue on PS5.
---
3. Reset your TV
Resetting your TV can help you fix the PS5 green screen issue.
A number of users who had the issue found out that it's actually with their TV and not the console.
So, go ahead and reset your TV and see if it fixes it.
---
4. Delete Corrupted Data on Console
If a specific game (whether a PS4 or PS5 game) is causing your PlayStation 5 console to go into green screen and crash, it might be as a result of corrupted data/files on your console from the game.
Hence, you should go ahead and clear out the corrupted data files from your console.
To do this, go to your console settings (icon at the top right corner).

Next, scroll down and click on Storage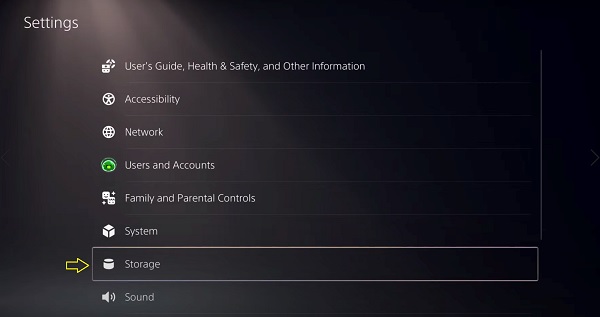 Click Console Storage, then select Saved Data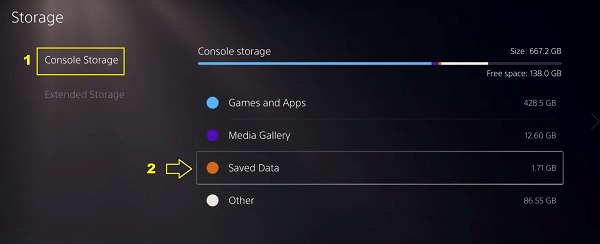 On the next page, select PS4 Games or PS5 Games depending on which particular game is causing the issue.
Finally, select any of the games and delete the files.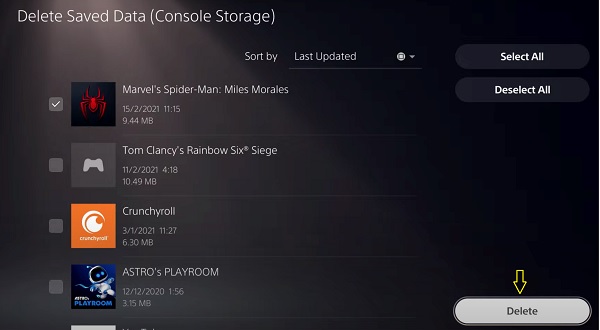 NOTE: You can also use the select icon to delete only specific data in the game if you don't want to clear out the whole saved data.
The video below will also guide you on doing that.
---
5. Contact Sony Support to Fix PS5 Green Screen
If your PS5 console is not out of warranty yet, your best bet to fix PS5 green screen of death issue is to contact Sony and request for a fix at no cost.
This is how most users have been able to fix the PS5 green screen.
It might take a few weeks to get it back, but it's the most reliable way to get your console fixed.
On the other hand, if you got the launch day edition or later edition and you are just out of warranty, you can still contact Sony to see if there's anything that can be done.
If anything though, you will most likely not be getting it for free.
NOTE: If Sony returns your console that there is no problem with it, or that they've fixed it and you still experience the issue after that, feel free to return it again and request for a fix.
A number of users had to return the console for fix more than once before either getting it fixed (or replaced).
To go ahead and request for a fix under warranty, you need to get a return authorization and shipping instruction. To get that, visit playstation.com/service or call 1-800-345-7669.
But, that's not all. There's more you can do from your end before (or even after you get it fixed) from Sony to fix (or prevent) the PS5 green screen issue).
---
6. Place Console in a Well-ventilated Area
If your PS5 console is overheating, it could cause it to crash.
This could be due to a thermal detector on the motherboard issuing a kill signal when the console is overheated (happens in a number of electronics).
That way, it prevents your console from getting even hotter to prevent a permanent damage or cause it to brick.
In rest mode, your console can download games and updates in the background while consuming less power. Also, the fan works at a very low level in rest mode.
This probably explains why the PS5 green screen issue is more associated with the rest mode.
When you combine the effects of:
Playing games for hours on your console (especially highly demanding ones)
Placing your console in an area with poor ventilation
Additionally putting your console into rest mode when the fan almost doesn't do any work in cooling the console
You start to see how the combination of these can cause your console to be heat up pretty bad and could potentially crash it.
Hence, if you console is an area with very poor ventilation, make sure you change the location and place it in a place where there's very good ventilation. To avoid overheating, it is also recommended that you place your console on PS5 Stand and Cooling Station.
---
7. Disable PS5 Rest Mode to Avoid PS5 Green Screen
I know it's sucks having to switch off your PS5 console every time you finish using it, and having to wait for it to boot up the next time you want to use it when you could have easily put it in rest mode and turn it back on in just seconds.
After all, the consoles are made to work well even with use of rest mode.
The results and experiences so far have said otherwise.
To disable PS5 Rest Mode:
Go to Settings > System > Power Saving > Set Time Until PS5 Enters Rest Mode.
Then select Don't Put in Rest Mode.
Do this for both 'During Media Playbacks' and 'While Playing Games'.
---
Bottom Line
If you are facing the PS5 green screen problem in 2023, it is most likely caused by hardware issue. Some of the proven fix methods are:
Reseat your HDMI cable
Switch to a different picture mode on your TV
Reset your TV
Delete corrupt data on your console
Contact Sony support for a fix
Ensure your console in a well-ventilated area to avoid crash due to overheating
Disable PS5 rest mode
That said, your best bet is to request for a fix from Sony customer care if you are still under warranty.
However, all other troubleshooting steps highlighted above have helped some users in fixing the PS5 green screen issue.
If you found the content helpful, don't forget to use the comment section below.