In this guide, I am going to discuss everything you need to know about Paramount Plus on PS5 including the official release date in 2023. More importantly, I will show you how to get Paramount Plus on PS5 console easily (3 ways in fact).
So, if that sounds like what you are looking for, let's begin right away.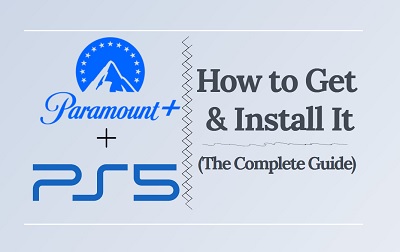 Paramount Plus which is the rebrand of the streaming service CBS All Access is an American subscription video service owned by Paramount Global. They also own an advertiser-supported video-on-demand (AVOD) streaming service Pluto TV which is available for free on PS5.
They also show a number of original series and films, live streaming sports coverage, live streaming of local CBS broadcast stations in the United States. The contents are drawn from the libraries of CBS Media Ventures, Paramount Media Networks, and Paramount Pictures.
Is Paramount Plus on PlayStation 5
Paramount Plus is currently not available officially on the PlayStation 5 console and is not on the list of the media services. While the app is currently available on the PlayStation 4 console, no app has been released yet for the PS5 console.
For now, the streaming service is only available on PC, Apple TV, iPhone and iPad, Android TV, Android Phones and tablets, Google Chromecast, Amazon Fire TV, Portal TV, PlayStation 4, Samsung TV, Vizio TV, LG TV, Roku, Xbox, Xfinity Flex and X1, Cox Contour box and VIDAA TV.
But, there's a way out.
Even though Paramount+ is not officially available directly on PS5 media library yet, there are at least three ways to access Paramount+ on PS5.
How to Get Paramount Plus on PS5
You can access Paramount Plus on your PS5 console through Apple TV app and Amazon Prime Video app. This is possible because both apps are available on the PS5 console and they allow you to use individual channels (including Paramount Plus).
So, while there is no Paramount Plus channel app yet on PS5 media library, you can get it through any of these services.
All you have to do is open any of these apps on your console, go through their available channels where you will find Paramount Plus, and then login using your account details.
Yes, it's as easy as it sounds.
Whichever you use is totally up to you.
But, there's a catch.
Since you have to using a third-party app as a gateway to access Paramount+, you will need to be subscribed not only to Paramount Plus but also the premium version of either Apple TV or Amazon Prime Video (offer 7days free trial).
You have to subscribe to Paramount+ from any of these channels to be able to verify your subscription.
In other words, if you originally subscribed using paramountplus.com or another app store other than Prime Video, such as Google Play, iTunes, Fire TV, or Roku, you will not be able to verify on Amazon Prime Video app.
The same way, if you subscribe on any other channel other than iTunes, you will not be able to verify on Apple TV.
There's also one more method where you can use the browser on PS5 to access Paramount Plus.
Now, let's look at how to install Paramount plus using each app.
1.

Via Apple TV App
Launch your PS5 console, switch to the media hub


Navigate to Apple TV app icon, then click on it to open it.
NOTE: If you had not opened the Apple TV app on your console before, you may experience some slight delay as it will need to be downloaded first.
Go ahead and sign in with your Apple ID and password.
If you don't have one already, you can create an account here on the website.
Once your Apple TV ID has been setup (either by logging in or by creating a fresh account), now you have to login to your Paramount Plus account via Apple TV.
At this stage, you either already have an existing Paramount Plus subscription via Apple TV or not.
First, launch Paramount+ app on Apple TV. Tap the "Try it Free" or "Subscribe" button.
You may be asked to sign in with your Apple ID and Password.
Finally, confirm billing information.
Optionally, you may need to verify your subscription to Paramount plus via Apple TV first (this is done just once, if asked).
In that case, go to paramountplus.com/apple and follow the instructions.
After you have verified your account and created a Paramount+ username and password, you can sign in using the log-in credentials you just created (not your Apple ID) on the Paramount+ channel.
Once you are signed in, you can begin to stream Paramount Plus!
2.

Via Amazon Prime Video
First, open the Prime Video app on your console.
REMEMBER: If you had not opened the Amazon Prime Video app on your console before, you may experience some slight delay as it will need to be downloaded first.
Scroll down to the Prime Video Channels category and select Paramount+ (or you can search for "Paramount+")
Click on the banner at the top of the screen/"Learn More."
Select the Premium plan ($9.99), and click "Start your free trial."
After your free trial, you'll be billed through your Amazon account.
As long as you are subscribed to Paramount Plus via your Amazon account, you will be able to stream it on your PS5 through the Amazon Prime Video app.
NOTE: The Paramount+ Essential plan is not currently available via Prime Video.
3.

Via a Browser
I found this other method of accessing Paramount Plus on PS5 by simply using a web browser on the console.
This method involves visiting the official Twitter account for Paramount Plus, then visit the website from there.
From the Paramount Plus website, you can sign in and access Paramount Plus.
The video below shows the whole process:
Why is Paramount Plus Not Available on PS5 Officially Yet?
When CBS All Access was rebranded as Paramount Plus, only the apps that existed on supported devices at that time were updated. In other words, no new apps were created to support new devices which includes the PlayStation 5 console.
Hence, until an official app is created by the technical team that will be supported on PS5, the app will continue to remain unavailable.
When is Paramount Plus Official Release Date on PS5?
For now, there is no official release date for when Paramount+ app that is supported on PS5 will be released. You can only stream it on other supported devices for now, including the PlayStation 4.
Otherwise, you can use any of the methods explained above to get it on PS5 for now until it is released officially.
A while back, a user asked the support team when the app for PS5 will be released and this was the reply: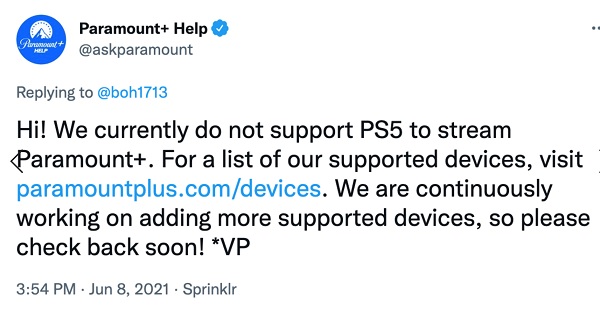 Up till this moment, no official statement has been made by the support team regarding the official release date for the app on PS5.
That is all for now on PS5 Paramount Plus. If you found it helpful, kindly share it using the share buttons. If you have any question or feedback, feel free to use the comment section below.