In this guide, I am going to show you everything you need to know about Amazon Prime Video on PS5. More importantly, I will show you how to download, install and activate Prime Video on PlayStation 5 gaming console in 2023.
If that sounds like what you are looking, let's begin right away.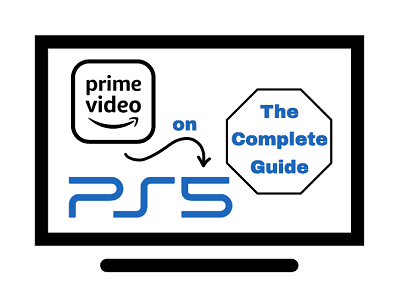 Amazon Prime Video is an on-demand subscription streaming and rental service that distributes films and television series produced by Amazon Studios and MGM Holdings or licensed to Amazon, as Amazon Originals while also hosting contents from other providers.
Is Amazon Prime Video Available on PS5?
Yes, the Amazon Prime Video is available on the PS5 gaming console. The app came with the PS5 gaming console when it was launched. While the app is not preinstalled on the console, users can easily download and install it from the media library.
So, if Amazon Prime Video is currently not showing on the PS5 media library, you are unable to sign in or you are unable to purchase it, you have no reason to worry anymore. I will cover everything in this guide.
The streaming service features many original series and movies including drama, comedy, animation and more. It is also available on Android TV, Apple TV, Samsung Smart TV, LG Smart TV, Vizio SmartCast TVs, Roku, iPhones and iPads, Mac and PC browsers, Xbox and many more devices.
First, let's take a look at how to install Amazon Prime Video on PS5.
How to Download and Install Amazon Prime Video on PS5
To add Amazon Prime Video on PS5, go to the PS5 media tab, click on All Apps, scroll and click on the Amazon Prime Video app icon and the app download and installation will begin. Once downloaded and installed, click on the Open button to launch Amazon Prime Video.
First, launch your PS5 and head to the Media tab from the top of the screen.


Click on the Amazon Prime Video app icon. You will also find it under the featured apps.
Next, click on the Download icon.
Once installed, you can go ahead and open it by clicking on the "Start" button and login to your account on your PlayStation.
How to Login to Amazon Prime Video Account on PS5
To be able to start streaming on PS5, you will need to register your device by logging in to your Amazon account.
To do that, click on the Sign in button after you open your Amazon Prime video app.
On the next page, you will be shown a code and also a URL to visit from your mobile/desktop browser
Open your mobile/desktop browser and visit the link – primevideo.com/mytv
You will be required to sign in with your Amazon account. Go ahead and sign in. Otherwise, create a new account if you don't already have one.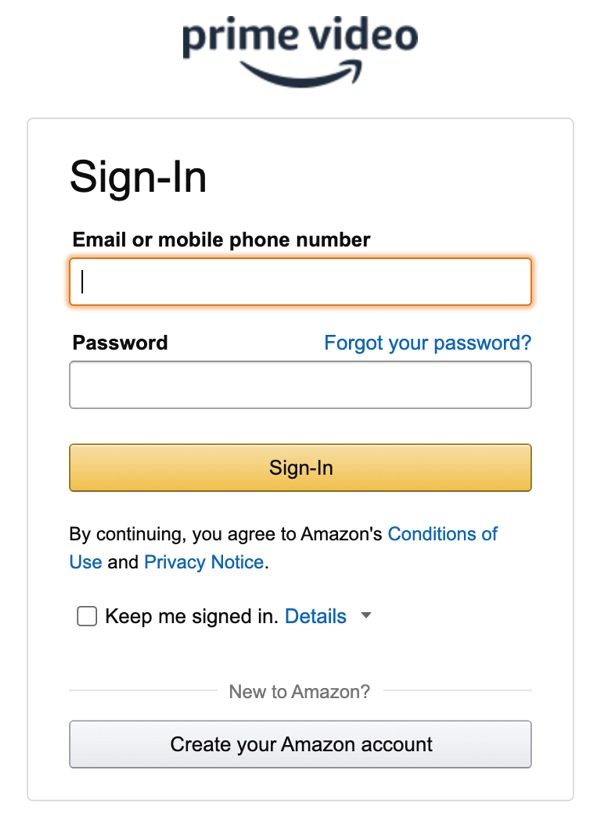 Once you are signed in, enter the code that displays on your TV screen in the earlier step. Then, click Register Device.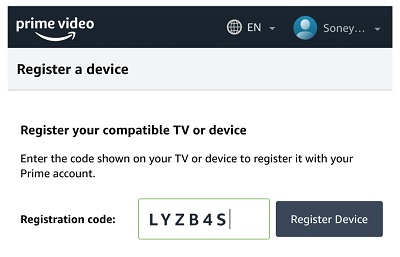 There! You should now be able to stream Amazon Prime Video contents on your PlayStation 5 console.
If you still can't login to Amazon Prime Video on PS5, check your internet connection and make sure there's no network issue from your Wi-Fi router/ethernet cable.
Where Can I Watch Prime Video on My PlayStation 5?
The streaming service is available worldwide except in:
Mainland China
Cuba
Iran
North Korea
Russia
Syria
Can't Find Amazon Prime Video on PS5
If you can't find Amazon Prime Video on PS5, then you are probably in a location where Prime video is not available. You can gain access to it by using a VPN on your console.
To use a VPN on your PlayStation 5 console, you need to connect to a Smart DNS.
You can get a smart DNS from premium VPN providers like ExpressVPN, NordVPN and SurfShark.
Once you have gotten the Smart DNS from any of the VPN providers, go ahead and input it on your console network settings.
To do that, go to Settings > Network > Settings > Set up Internet Connection.
Next, select either LAN or Wi-Fi depending on which you are connected to.
Highlight your connection and press the Options button to bring up the options menu.
Click on Advanced Settings.
On the advanced settings page, set IP address to Auto, Set DCHP Host to Do Not Specify.
From DNS settings, select Manual and input the Smart DNS you got from your VPN provider. Click on Next.
Now, go ahead and Set MUT to Auto, set Proxy Server to Do Not Use, and select Test Internet Connection to verify your settings.
Just like that, you will be able to stream Prime Video on PS5 from other locations.
Features & Subscription Plans
Other than having the most expansive anime content library in the world, Amazon Prime Video offer some really cool features like:
4K Ultra HD
High Dynamic Range (HDR)
Mobile downloads for offline viewing of select content
Multiple profiles
Parental control
Watch parties
Share video access
Customize your subtitles
Subscription Plans:
Amazon Prime Video subscription costs $9 monthly. It is also included with $120/year Prime membership.
There is also a 7 days free trial.
Unable to Buy Amazon Prime Video
If you are unable to buy Amazon Prime Video subscription, you should check your account profile. You are probably using a child account. If that's the case, go ahead and create an an account for adult and that should fix the issue.
Conclusion
Getting Amazon Prime Video on PS5 is really easy. All you need to do is to go to the Media library, download it and wait for it to be installed.
Then, go ahead and login with your Amazon Prime Video account and you can enjoy as much anime as possible on your gaming console easily.
That is all for now. If you have any question or feedback, feel free to use the comment section below. Also, kindly share the content by using the share buttons.