There have been a number of reported cases where Samsung TV turns off when HDMI is plugged in (no sound, no picture). Having experienced the issue myself, I finally found a way to fix it.
In some cases, you may notice that the TV turns back on instantly as soon as you unplug the HDMI cable. In some other cases, the black screen may persist until you reboot the TV.
First, I will show you how I was able to stop my Samsung smart TV from turning off by itself when an HDMI cable is plugged in. Then, I will show you some other proven fixes that worked for other users with the same issue.
Without any further ado, let's dive right in!
Samsung TV Turns Off When HDMI is Plugged In
Below are 7 proven ways to fix a Samsung TV that turns off when HDMI is plugged in:
1. Disable Anynet+ (HDMI-CEC)
HDMI-CEC is a feature on many smart TVs that allows you to use the TV remote to control external devices among other things. However, this has been associated with causing Samsung TVs to turn off by itself when an HDMI cable is connected.
In fact, I was able to fix the issue by simply disabling HDMI-CEC. Here's how to you do that:
Using the remote control, navigate to Settings

Click on the 'General' tab, and select 'External Device Manager'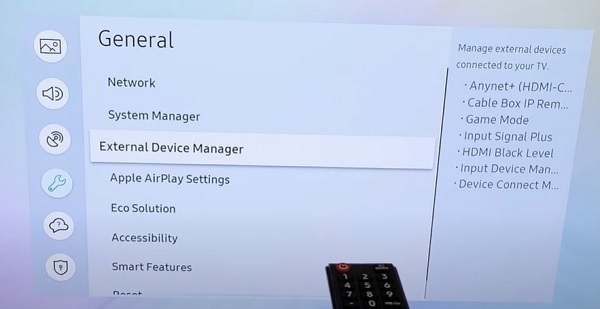 Highlight Anynet+ (HDMI-CEC), then click on it to disable it.
Once disabled, your Samsung smart TV should stop turning off by itself.
---
2. Check the Connected External Devices
Whether you are trying to connect a cable/satellite box, streaming device, home theater receiver, gaming console, media player or other external devices to your Samsung QLED or OLED smart TV, any of the external devices can cause the issue.
Below is a simple 2-step process to troubleshoot external devices connected via HDMI:
Step 1. Disconnect All External Devices
If your Samsung TV is connected to an external device, your TV screen may go black if the device turns off. In addition, some of these devices also have HDMI-CEC feature (for example PlayStation 5 console).
The first thing you need to do is to disconnect all external devices. Now, go ahead and plug the devices one after the other until you find the one that causes the issue.

Once detected, you need to troubleshoot it.
Step 2. Troubleshoot the External Device
To troubleshot the device causing your Samsung TV to turn off when HDMI is plugged in, you need to power cycle it. To do that, unplug the device from the power source, leave it unplugged for 30 seconds and then plug it back in. Once done, turn on your TV, plug in the HDMI again into your Samsung TV and it should not turn off again.
If that doesn't fix it, check to see if the device has an HDMI-CEC feature on it and turn it off as well on the device.
Next, check the HDMI-CEC (Anynet+) settings again on your Samsung TV, as it might have been automatically turned on again (this happens sometimes when an external device is disconnected and reconnected back on Samsung TV).
Finally, make sure that you switch the input source to the one that matches the HDMI port on the TV where the cable is plugged.
---
3. Check the HDMI Connection
The next thing you need to do is to check the HDMI connection.
First, you need to make sure that the HDMI cable is plugged in properly and is seated in the HDMI port properly.
To do this, unplug the HDMI cable from your Samsung TV
Then, blow out the HDMI port (this will remove dust or dirt that may be stuck in the HDMI port, preventing proper contact between the cable and port)
Finally, plug it back into the HDMI port.
If your Samsung TV screen still turns off, then you need to switch the HDMI port (just in case the HDMI port you have been trying to use is faulty).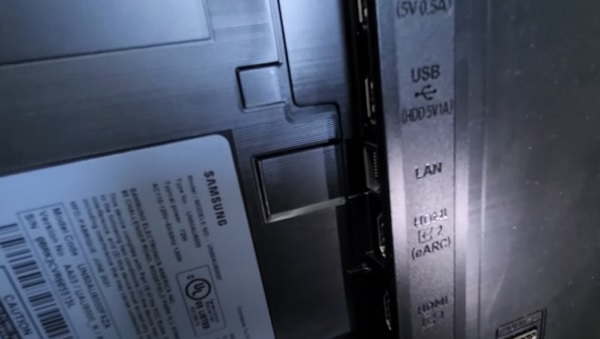 Again, remember to switch the input source on the TV to match the HDMI port once this is done.
A similar issue with picture coming from HDMI is when your Samsung TV shows a blue screen then shuts off.
---
4. Use a Premium, Certified HDMI Cable
Use of non-premium HDMI cable is another reason why your Samsung TV may turn off as soon as HDMI is plugged in.

If you didn't know, there are different types of HDMI cables, and it is highly recommended that you use the Premium certified HDMI cable.
By the way, the fact that your HDMI cable shows premium does not actually mean that it's a certified premium cable. All certified premium cables will display a Hologram and QR code on the package which can be used to confirm if genuine. This also helps avoid counterfeits.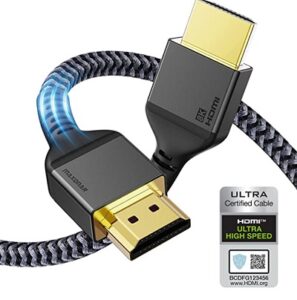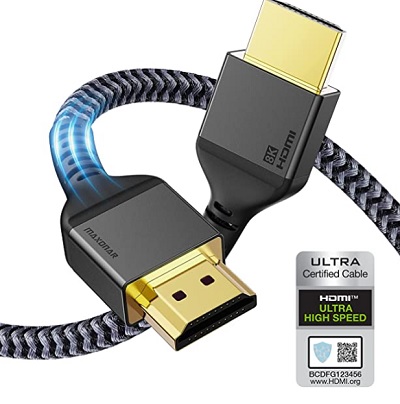 ---
5. Power Cycle TV
Another way to fix a Samsung TV that keeps turning off by itself when HDMI cable is connected is to power cycle it.
Here's how to power cycle your Samsung TV:
Unplug your TV from power outlet
Leave it unplugged for 60 seconds
Press and hold the power button on your TV (not remote controller) for 30 seconds. If your TV does not have a power button, you can skip this step.
Plug the TV back into the power source and turn it on
Now, the issue should be fixed. Otherwise, you need to update the TV system software
---
6. Update Samsung TV System Software
If the issue still persists, you need to update your Samsung TV tizen OS system software.
Here's how to do that:
Go to Settings, click on the Support tab and select Software Update.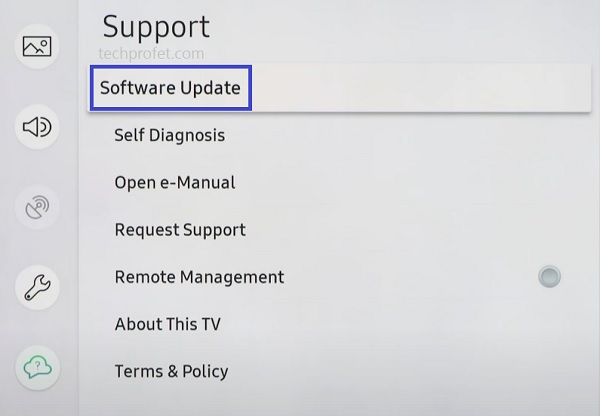 Finally, click on 'Update Now'.
You can also update your Samsung TV manually using a USB drive.
If that fixes the issue for you, great! Otherwise, move to the next tip.
---
7. Turn Off 'Auto Power Off' Feature
The auto power off feature on Samsung smart TVs is a feature that automatically turns off the TV when no activity is detected for a preset time.
Although the chances that there is a coincidence with the preset auto power off time and the time you plugged in the HDMI is quite slim, it could still be responsible for the issue you are facing.
To turn off auto power off on Samsung TV, go to Settings > General > Eco Solution > Auto Power Off. Click on it to turn it off.
Now, your Samsung TV should stop turning off when HDMI is plugged in.
Bottom Line
Whether you are trying to connect an HDMI device like streaming sticks to your Samsung TV, or you are trying to connect an external device via HDMI cable to your TV, you may experience a strange issue where the TV shuts off by itself.
To troubleshoot and fix this, do the following:
Disable Anynet+ (HDMI-CEC) on your Samsung smart TV
Check and troubleshoot external devices connected to your TV
Check the HDMI connection
Use a premium, certified HDMI cable
Power cycle your TV
Update the tizenOS system software
Turn off 'auto power off' feature on your Samsung TV
However, if you are still having the same issue even after doing all these, then try contacting Samsung TV support to assist you further.
If you found this guide helpful, let me know which of these fixed the issue for you in the comment section.