On this page, you will find the list of the best Google TV web browsers based on factors like their user interface, speed, security, privacy, features and functionalities.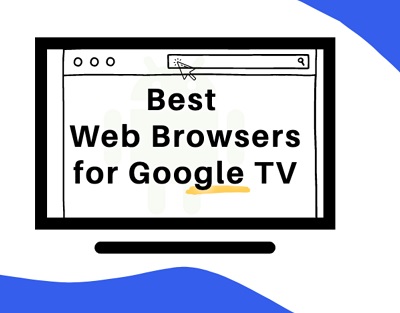 Streaming devices have not only made streaming more enjoyable, a good number of them use operative systems that allow you to browse the internet via supported web browsers.
Google TV which was launched in 2010 with Sony TVs, later supporting other smart TV brands and finally rebranded as Android TV in 2014 is a good example of such. It runs on the Android TV OS and supports a good number of decent free internet browsers.
In addition, you can also use these browsers to stream contents from some streaming websites especially if their apps are not available directly on your Google TV.
In this guide, we are going to look at some of the best web browsers for Google TV in 2023, including some best browsers for Chromecast with Google TV.
So, if that sounds like what you are looking for, let's dive right in!
Google TV Web Browsers
1. Puffin TV Browser
Puffin TV browser, developed by CloudMosa is a popular web browser for Google TV.
It is the fastest Android TV web browser as it uses encrypted cloud servers for content processing, while also loading Javascripts super fast.
In addition, it also includes ad blocker which gets rid of adverts on any web page you visit.
The browser also allows you to download files directly to cloud, and also view Flash content through the cloud.
The downsides?
First, it is not a free browser
While you can actually download the browser for free on the store, you need to pay for subscription to use all the features without any time limit.
NOTE: It is the only paid browser on the list. Therefore, if subscription is not any option for you, then go ahead and check the other ones which are totally free to use.
In addition, the cloud servers are location in regions like the US and Singapore. Therefore, geolocation restrictions of content may occur if you are based in other countries.
You can download it here.
---
2. TV Bro Browser
TV Bro is another good web browser for Google TV, with a clean, simple and nice interface.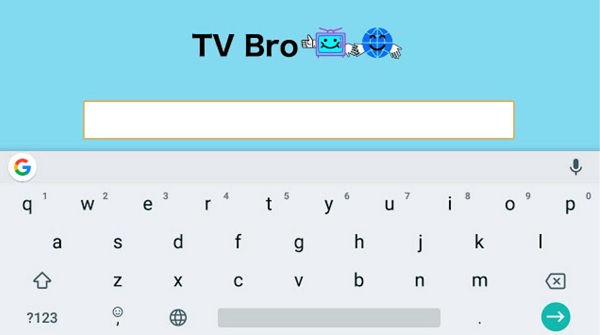 The browser supports bookmark feature which means you can quickly bookmark your frequently visited websites, for good ease of access and convenience.
Speaking of convenience, you can also go hands-free when you use voice search which is also supported on the browser.
It also supports incognito mode. More importantly, it works seamlessly with the TV remote controller.
That's not all.
The internet browser also allows multiple users, which means you can switch the profiles you want to use with the browser.
In a recent update to the browser, you also have the option to keep the screen always on when using the browser on your AndroidOS Google TV.
You can download it here.
---
3. Mozilla Firefox
Mozilla Firefox, one of the oldest internet browsers is another popular name when it comes to internet browsers.
When it comes to Google TV web browsers, it's definitely one close to the top of the list.
If privacy is a big deal for you like most people, then Mozilla Firefox is definitely one to consider.
Other than internet surfing, Mozilla Firefox is one of the best web browsers for streaming on Google TV in 2023. You can easily get it on your Google TV by sideloading the apk file either sent from your phone or downloaded from alternative app stores for your TV like tv.aptoide.com.
You can also sideload Firefox for Fire TV since it has a user interface specifically designed for use as a TV browser.
The video below will guide you on how to sideload apk on Chromecast to your Google TV if you don't know how.
Of course, Firefox is also a very fast browser with a lot of features like:
Web pages bookmark
Incognito mode
Collections to organize tabs
Add-on e.t.c
You can download it here.
---
4. Google Chrome
Google TV Chrome browser is without any doubt, one of the fastest and most secure web browsers for internet surfing.
It is quite surprising that Google Chrome is not a pre-installed app on the Google TV since both are owned by the same parent company, as you will usually see with most Android devices.
But, that's not any reason to not be able to use Google Chrome as an internet browser on your Android TV.
Just like Mozilla Firefox, you can also sideload Chrome browser to use on your TV.
You can enjoy features like Incognito mode, voice search, Google translation and you can also sync your browser across other devices.
If you are signed in and you enable the sync, you even enjoy many more benefits like autofill that help you browser faster while typing less. On a TV where it's a bit of hurdle when typing (compared to mobile device or PC) with a remote navigation buttons, this feature is sure to help fill that gap.
You can download it here.
---
5. TV Web Browser – Browse Here
TV Web browser is another browser that you can use on your Android OS TV such as Sony TV, Hisense TV, Philips Android TV, Amazon Fire TV, TCL Android TV, Phillips TV e.t.c.
It has a very beautiful UI design, and works very well with TV remote.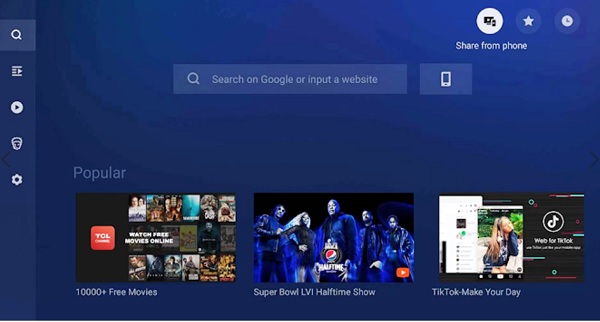 It includes features such as bookmarks, browsing history and search engines shortcut.
It also includes cookies blockers, which means that websites you visit cannot track, personalize, or save information about you. Hence, it is also a very good browser privacy-wise.
With the QR Code webpage, you can also send a URL address to the TV without a remote and keyboard which means you don't need to manually input. Although, this feature is not supported on all Android OS TVs.
You can download it here.
---
6. Opera
Opera is another well-known internet browser that you can use on your Google TV in 2023.
It has a very simple, familiar and beautiful user interface. It supports private browsing with its incognito mode feature, which means you can browser on it without leaving any trace of your data or browsing history.
It also has an ad blocker which means you don't need to worry about intrusive ads on web pages.
Other features include:
Dark mode
Supports offline reading of web pages
Video player to watch and play downloaded video files offline
Data saver which allows you to visit websites even when network is slow
Offline file sharing
Just like Chrome and Firefox, you can also sideload the app using Chromecast on your Google TV.
You can download it here.
---
7. JioPages TV Browser
The last but not the least on this list is JioPagesTV browser.
Just like TV Bro web browser, this is another web browser that is specifically designed to work on Android TV that provides you with a seamless browsing experience.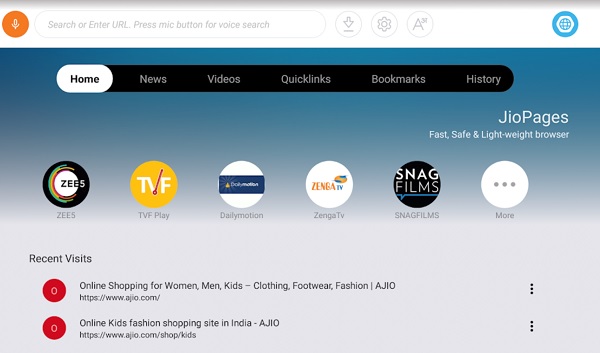 It is a safe and fast web browser that you can use on your AndroidOS Google TV in 2023.
It has features like:
Voice search
In-built PDF reader
Page translator, so you can browser in your regional language
Download manager
You can download it here.
---
Bottom Line
Some of the best web browsers for Google TV are:
Puffin TV browser
TV Bro browser
Mozilla Firefox
Google Chrome
TV Web browser
Opera
JioPagesTV browser
Now, it's your turn.
Which of these browsers do you plan to use? Or which have you used before, and what's your feedback based on personal experience? Share your thoughts using the comment section below.
If you found this content helpful, kindly share by using the share buttons.