If your Samsung TV has a crackling sound or you can hear a loud popping or static noise coming from the back of the TV or the speakers every now and then, you are not alone. This is a very common issue among some sets of Samsung smart TVs like the 2019 QLED series, some 2023 8K models and more.
Switching to HDMI while watching an HD channel is one of the common ways to induce the crackling sound on your TV, and you may also notice a volume drop after. In fact, the sound may still be there for a few minutes even after you shut off the TV.
The good news is that I have found a number of proven ways to fix this issue quickly which I will show you in this guide. For most of you reading this, at least one of this method will work for you.
Without any further ado, let's dive right in!
Samsung TV Crackling Sound Fix
If your Samsung TV has a cracking sound, it can be due to software issues, attached external devices, cables connection, HDMI cable quality, overheating, audio/video decoding issues, outdated software version, SD-to-HDMI input switch bug, faulty circuit board and other software/hardware issues.
Now, let's take a look at the 13 proven ways to fix this each, step-by-step.
1. Check the Cable Connections
One of the quickest and easiest ways to fix the Samsung TV crackling sound is to check all the cable connections (HDMI, coaxial, optical e.t.c) and ensure that all the cables are connected firmly to the proper port on your TV and on any external device (e.g. A/V receiver) you may be using with your TV.
To the naked eye, it may appear as if all the cables are connected properly when in fact, they may not be.
Therefore, give all the cables a little shove until they are all firmly connected into the right ports on your TV and other connected devices.
---
2. Switch Audio Output to PCM
Another common reason for the crackling noise on Samsung TV comes from issue with the audio decoding, which could be due to a software bug. To fix this, you simply need to switch the HDMI audio settings and digital audio output settings.
Here's how to do that:

Select Sound and click on 'Expert Sound'
Select Digital Output Audio to DTS NEO2:5
Change HDMI audio settings to PCM
In addition, if you have attached an external device (like gaming console, streaming stick e.t.c), try changing the audio output to DTS or Dolby Digital as well.
Once done, the crackling noise should stop. However, if this doesn't fix the issue for you, move to the next tip.
---
3. Check and Troubleshoot External Devices
A lot of people who had this issue were able to troubleshoot it, and discovered that it was caused by one of the external devices that was connected and not the TV itself.
Although, the sound did come from the TV as most people with the same issue have it, the cause was an external device like Blu ray, cable box, streaming stick, one-connect box, gaming console, DVD player e.t.c. Therefore, you need to troubleshoot and check if it's the same in your case before we go back to checking the TV.
Here are a few things to troubleshoot external devices:
First, try disconnecting any external device that you do not need to use the TV and notice if the crackling sound stops. If you use an aerial with your TV, unplug it (From what I've seen, aerials have been reported to be one of the most common causes of this issue for many users as far as external devices are concerned)
Change the audio format on your external device (gaming console, streaming stick e.t.c.) from PCM to DTS or Dolby Digital.
Also, if you have more than one input source available for the external devices, try switching to a different input source and notice if there's any change.
If possible, connect the external device to a different TV and see if the other TV starts making the same sound.
The more the experiments you carry out with external devices (unplugging, switching ports and changing audio settings), the more you can make a conclusive decision at the end.
However, if anything, make sure you definitely try unplugging the aerial (if you use one), switch audio output setting on compatible external device(s) to DTS or Dolby Digital and switch to a different input port (if you have more than one for the external device).
If the issue is not coming from an external device after troubleshooting, then let's go back to troubleshooting the TV.
---
4. Update TV Software Version
I mentioned earlier that the crackling sound issue affected some sets like the 2019 QLED series, some 2023 8K QLED models and some others. Whether it's a software bug with the audio decoding or some other software issues, updating the software version on your Samsung Tizen OS TV can quickly fix the issue.
To update your Samsung tizenOS TV software, go to Settings, click on the Support tab and select Software Update.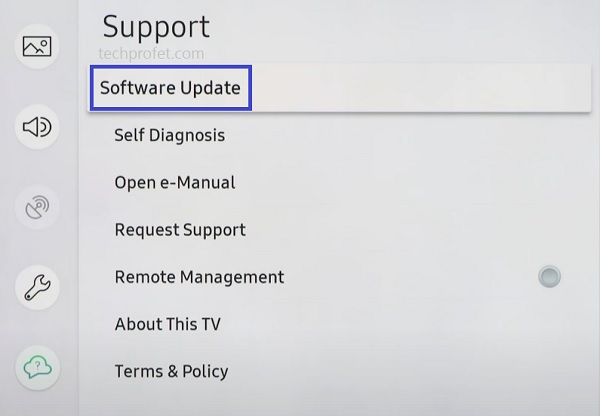 Finally, click on 'Update Now'.

You can also update your Samsung TV manually using a USB drive.
---
5. Use a High-Quality HDMI Cable
Samsung smart TVs that have been commonly reported to have the crackling sound issue are the QLED 4K and 8K TVs. These UHD sets require newer, high-speed HDMI cables (4K or 8K) that can handle the transmission.
Therefore, it is no surprise that a lot of users who had the issue were able to fix it by simply getting a high-speed certified premium HDMI cable. These newer cables are able to handle the traffic, hence fixing the issue.

So, if you currently use a lower quality HDMI cable, get a certified premium high-speed cable.
By the way, the fact that your HDMI cable shows premium does not actually mean that it's a certified premium cable. With premium 2.1 HDMI cables, you get a higher bandwidth which provides more room for the communication protocol required especially with high resolution audio.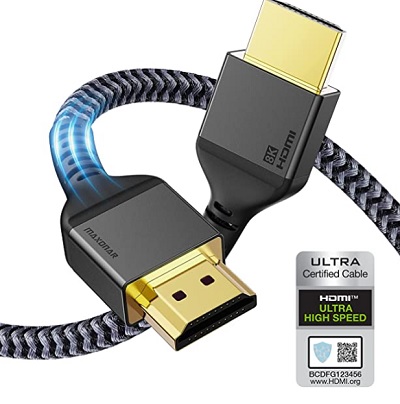 All certified premium cables will display a Hologram and QR code on the package which can be used to confirm if genuine. This also helps avoid counterfeits.
---
6. Ensure TV is on SD Channel Before Switching to HDMI Source
Although, this will not permanently fix the underlying cause like the other things I have discussed and will discuss in this guide, it can help you avoid the issue consistently for the most part. Therefore, it's more of a precaution that a fix but I just felt it's worth mentioning anyway since it's very simple.
I mentioned in the beginning of this guide that if you switch to an HDMI source on your Samsung TV while using an HD channel, you will hear the popping sound that may last for a while. Again, this is obviously some sort of software bug.
However, if you switch to an SD channel before changing the source to HDMI, the crackling sound will not come up on your Samsung TV.
If you are comfortable following this route (HD channel > SD channel > HDMI channel) every time you watch an HD channel, then you are good to go. Otherwise, there are other ways to fix the underlying cause so you don't have to go through this just to avoid it.
---
7. Perform a Hard Reboot
Another way to fix the crackling sound on your Samsung QLED smart TV is to perform a hard reboot. To do this, simply hold down the power button on your TV until the QLED logo appears. Then, release the button and allow the TV to boot up.
Once the TV reboots, the cracking sound should stop. While this will fix the issue at the moment it happens, the crackling sound may come back later (e.g when you switch to an HDMI source directly from an HD channel). However, you can always repeat the procedure in such cases and it will be fixed immediately.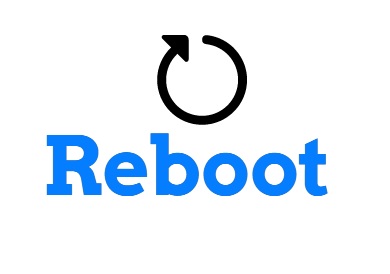 There are other ways to fix the issue permanently (some I discussed already like getting a premium HDMI cable, some I will still discuss in this guide). That said, let's move to the next method.
---
8. Ensure Adequate Ventilation Around the TV
The materials used in TVs (plastic and metal) are subject to expansion and contraction due to changes in the temperature. Therefore, you may hear crackling, popping or creaking sounds when the TV becomes very hot or when it is cooling down.
Just as the expansion of the materials can cause you to hear the crackling noise while using the TV, so can the contraction of the materials cause the sound when it's cooling down (hence why you may hear the noise even after powering off your TV set).
Therefore, you need to ensure that there is adequate ventilation around the TV set. Otherwise, the internal temperature of your set may go really high, causing the plastic to expand more than normal which may then cause you to hear the crackling sound on your Samsung TV.
Make sure there aren't any heating or air conditioning vent pointing directly at the TV. In addition, make sure the TV is placed on a flat and levelled surface, as tilting or an uneven stand can increase the noise.
---
9. Get an AV Receiver with ARC/eARC
If you currently do not use an AV receiver, or you have an older type, then getting a newer AV receiver with ARC/eARC can help you fix the issue immediately. However, this is not a cheap way to fix it, hence why I placed it a bit lower on the list and gave some simpler suggestions first.
An AV receiver receives signals from various input devices like a VCR, DVD player or satellite dish, it interprets and amplifies those signals and then sends them to output devices like your television and sound system. It will serve as the central hub for your home theater experience.
Some of the best AV receiver out there include Denon AVR-X3700H, Yamaha RX-V6A, Yamaha RX-A4A, Onkyo TX-RZ50, Marantz SR6015, Sony STR-DH590, Panasonic JZ1500 and Marantz NR1711.
NOTE: A "7.2-channel" system means a receiver is capable of powering 7 main speakers (including surround), and has 2 subwoofers outputs, same way "9.2-channel" system means 9 main speakers and 2 subwoofers.
Most of the receivers I mentioned earlier also support the most advanced object-based audio formats like Dolby Atmos, Dolby Atmos Height Virtualization Technology, DTS:X, DTS Virtual:X and IMAX Enhanced processing.
More importantly, make sure to check the return policy is in place. That way, you can always return it and get a refund or a different receiver if one does not work for you. However, the receivers I've listed above all support ARC/eARC and will most likely fix the crackling sound coming from your Samsung TV.
---
10. Reset TV to Factory Settings
Another way to fix this issue is to actually restore the Samsung tizenOS smart TV to factory settings directly from the menu using the remote controller. Here's how to do that:
On Samsung TV models from 2019 to the latest model, navigate to Settings > General > Reset, enter the reset PIN and click on Reset again.
For Samsung TV models between 2016 and 2018, navigate to Settings > Support > Self Diagnosis > Reset, enter the reset PIN and click on Reset again.
The default reset PIN is 0000.
Can't Remember Samsung TV Reset PIN?
If you changed your Samsung TV reset PIN before and you can't remember it, or maybe you bought the TV from someone and don't know the reset PIN, then you need to reset the reset PIN using the remote. Here's how to do that:
While the TV is turned on, press the following buttons on the remote (in order) as fast as possible:
On Samsung Smart remote: VOL > Volume Up > Return/Back > Volume Down > Return/Back > Volume Up > Return/Back
On the standard remote: Mute > Volume Up (+) > Return > Volume Down (-) > RETURN > Volume Up (+) > Return
You can also reset from the service menu.
With the remote control press the following keys in sequence: Info > Menu > Mute > Power, and the service mode screen will appear. Select the 'Option' menu and click on 'Factory Reset'. Now, wait for the TV to restart. If it doesn't restart then restart it on remote. Once it restarts, proceed with the setup and you are good to go!
---
11. Replace the Circuit Board
During my research, I found a user who claimed that he had very faint crackling sound coming from the back of his Samsung TV (QN700A), and it turned out that the circuit board was faulty. After the circuit board was changed, the crackling sound stopped coming from the back of the TV.
While I cannot verify this claim, it does make sense. Therefore, if none of the suggestions above have fixed the issue in your case, you may want to consider finding a new circuit board for your Samsung TV and getting it replaced.
Alternatively, you may just contact Samsung and get it fixed if you still have warranty.
---
12. Contact Samsung Support
At this point, the only thing left to do is to contact Samsung support to fix or replace your TV for you if you still have an active warranty.
You can get it touch on phone on 1-800-SAMSUNG for general customer support.
Bottom Line
If your Samsung TV has a crackling or popping sound, it can be either an hardware or software. As I have explained in this guide, there are a few ways to fix it:
Check the cable connections
Switch audio ouput to PCM
Check and troubleshoot external devices
Update TV software version
Use a high-quality HDMI cable
Ensure TV is on SD channel before switching to HDMI source
Perform a hard reboot
Ensure adequate ventilation around the TV
Get a new-gen AV receiver
Reset TV to factory settings
Replace the circuit board
Finally, you can contact Samsung TV support to help you fix or replace the TV if you are on warranty.
If you found this guide helpful, kindly drop a comment below. Also, let me know which of the methods helped you fix the crackling sound on your Samsung TV set.