Does Blink work with Google home? This is the question we are going to tackle in this article.
In this article, I am going to discuss everything you need to know about integrating Blink and Google Home smart security system in 2023.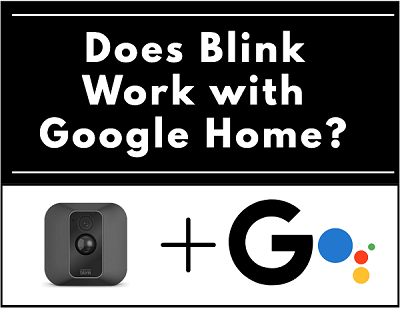 First, I will answer the important question – "Does Blink work with Google home?". Next, I will show you how to use Blink cameras with Google home. Finally, I will show you other alternative methods to connect Blink and Google home in 2023 (plus other security camera systems that integrate natively with Google Home).
If that sounds interesting to you, let's begin right away!
Does Blink Work with Google Home?
Blink does not work with Google home by default. However, Blink supports native integration with Alexa-enabled Amazon smart devices such as the Echo Show, Echo Dot and Echo Spot. With an Alexa device that has screen like Echo show, you can view the live video feed from Blink camera.
However, there are some alternative ways to connect Blink with Google Home which I will discuss in the next section.
Now, if you are wondering why Blink does not work with Google home natively, here's what you should know:
Blink is a company owned by Amazon that provides a series of security camera.
Google Home on the other hand is a smart security system owned by Google.
Google have their own security camera series known as Google Nest Cam, while Amazon also have their own virtual assistant technology known as Alexa which aids Amazon's smart ecosystem with devices like Echo Dot and Echo Show.
Therefore, by default, Blink cameras are made to integrate natively with Alexa-enabled devices since both are owned by the same parent company – Amazon.
But, here's the good news.
There are ways to go around it and actually connect Blink to Google Home.
How to Connect Blink to Google Home
You can use Blink with Google home via some third-party apps or web-based services like:
1. IFTTT
IFTTT is short for If This Then That, and it provides a way to integrate apps, devices, and services to work together.
With IFTTT integration now supported on Blink, you can now automations and workflows to on your Blink. You can use it to arm and disarm your Blink camera with Google Home.
Also, you can use it to arm or disarm the camera based on your location i.e when you get home or leave home.
First, go ahead and download IFTTT app on Google Play store or Apple App store.
Once the app is installed, go ahead and create an account or login to the app.
Next, click on the Explore button. Then, search for 'Blink'. Once it is shown, click on it.
Click on Continue to sign in to your Blink account.
Then, go ahead and sign in to Blink. Next, enter the PIN sent to your email address.
Finally, click on Grant access.
Now that you have granted access to IFTTT's Applets, you can now use the Applets to arm and disarm your system when you leave or arrive at your home.
Click on any of the Applets on your IFTTT app and click Connect to add it.
If you have not yet been asked, IFTTT may prompt you to allow or not allow push notifications. Tap on Allow to make sure that notifications are sent to your device.
You will find applets that you can use with Google Home (Google assistant) like the ones below.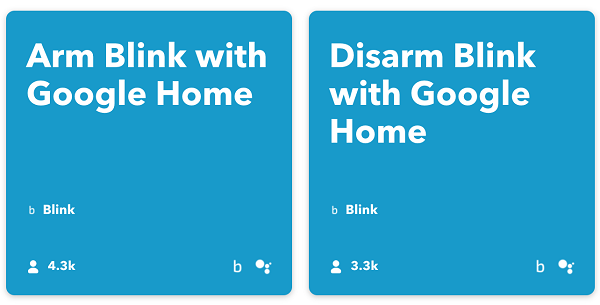 You can also create your own applets by providing If-this-then-that conditions on the app to control your Blink camera.
2. SmartThingsApp
With IFTTT integration, SmartThings can be used to arm and disarm your Blink security system.
IFTTT supports integration with SmartThings by Samsung.
With this, you have more automation and workflow options that aren't just limited to your Google assistant.
You can use/create Blink camera automation based on other connections to your SmartThings app.
For example, you can use applets that arm blink when you lock the door and disarm blink when you unlock the door.
I think it's worth mentioning that SmartThings also offer their own camera series (SmartThings Cam) which is compatible with SmartThings app and Google assistant.
Before I wrap up this article, there is one more thing you should know.
There are other security camera series (other than Google Nest Cam) that integrate natively with Google Home.
In fact, one of the series on the list – Ring cameras are also made by Amazon just like Blink cameras, although users have been finding it impossible to integrate it with Google like before.
Let's take a quick look at them.
Best Alternative Cameras That Work with Google Home – 2023
Below are the best Google Home compatible Blink alternatives that support native integration without need for any third-party app or service:
1. Google Nest Cam
Of course, the Google-owned Google Nest Cam tops the list.
There is also the Nest Cam IQ which other than being bigger and having improved feature when compared with Google Nest Cam, also has facial recognition feature to recognize faces of friends and family.
With this feature, you can avoid unnecessary notifications when the faces of recognized people are detected by the camera.
With this camera series, you can see a live feed from any connected device such as the Google Nest Hub.
You know what's even more interesting?
Google Nest Cam support both Google home and Alexa natively.
Compared to Blink, it offers:
Better video quality
More advanced sensors
Intelligent activity detection
Emergency response options
Extended warranty coverage
However, they are also more expensive.
2. Ring
Coming next on the list is Ring which is another camera series also owned by Amazon. Ring cameras also support both Google Home and Alexa.
Ring series camera are more expensive when compared with Blink series, and they offer:
Alarm system
Wider fields of view
24/7 professional monitoring feature
Lifetime theft protection
However, users have been finding it difficult to integrate Ring cameras with Google Home unlike before.
3. Arlo
Arlo is another popular name, and also compatible with both Google Home and Alexa.
When also compared to Blink camera, you get:
High video quality, supporting up to 4k resolution
Option continuous recording
Better night vision images
Offers model that works without Wi-Fi
An alarm system
Also compatible with Apple Home Kit
Again, all these nice features come with higher subscription fee.
4. Wyze
If you are looking for a basic but solid, cheap security camera that is natively compatible with Google Home, then Wyze is the way to go. It is also compatible with Alexa and Apple Home Kit.
In addition, it is weather-resistant.
Prices are comparable and similar to Blink camera prices.
5. EufyCam
Compared with Blink, EufyCam offers:
Better video quality offering full HD and 2K options
Better night vision
Better Intelligent Video Surveillance
Conclusion
So, does Blink work with Google Home?
No, Blink cameras do not work with Google Home natively. However, you can use IFTTT and SmartThings to integrate Google assistant with Blink cameras.
Since Blink cameras only natively support Alexa, your best bet is to use Alexa-enabled Amazon smart devices such as the Echo Show, Echo Dot and Echo Spot to get the best integration features.
Otherwise, you can use third-party apps to enable Google Home integration with Blink.
Or better, go for other security cameras that natively support Google Home assistant (most of which have better features and also natively support Alexa and Apple Home Kit).
The only downside is that these are more expensive.
If you found the content helpful, kindly share it by using the share buttons. If you have any question/feedback, feel free to use the comment section.