This article will make you understand how Google works.
I will explain to you:
How Google CRAWL web pages
What Indexing means
How Google RANK web pages
When you understand how Google works and place web pages on SERP, you will be able to work your way into Google first page.
If you are a newbie, my introductory guide on blogging and SEO will be a good place to start.
I have a bad news and good news.
The bad news?
Some of this things are very complex and may be difficult to understand.
The good news?
I have explained everything in a way you will understand EASILY.
If you are ready to learn some new interesting facts about how Google works, then this guide has everything you need.
Let's dive right in.
How Google Works – Crawling And Indexing
Firstly, Google knows your web page exists and also understands everything you have on your page (if you choose to allow Google to know).
Imagine you search for "best gaming laptops" and you get a result like the one below:
That result won't solve your problem or answer your question.
What Happens Next?
If I were you, I will leave Google to use some other search engines like Bing, Ask, Yahoo or Duckduckgo.
And that means loss in number of Google searchers and LOSS IN INCOME for Google.
Surely, Google doesn't want that.
Google wants to display the BEST RESULTS to its users and SOLVE THEIR PROBLEM as soon as possible.
That way, you and I keep using Google (= MORE INCOME for Google)
FACT: As of February 2018, 62.6% of web users conduct their searches on Google — up from 53% in 2015. (source: SparkToro)
Google wants to keep increasing that statistics year in, year out.
In order to show the best result to searchers, Google needs to understand what is written on every page.
One way or the other, Google knows that this page you are reading explains "How Google works", "crawling", "indexing" e.t.c.
How Does Google Know That? Let me Quickly Explain
Google sends bots called "Google spiders" to visit your web pages.
They do not read it like humans but rather as an HTML (Hyper Text Markup Language) file.
If you do not understand what HTML is, freecodecamp.org is a good place to start.
NOTE: You do not need to be a programmer to start a blog or do well in SEO (but a basic knowledge of HTML will help you a lot).
Everything I have written so far on this page has an HTML alternative.
So, when Google spiders crawl your web page and read it as HTML, it is equivalent to you reading this page in English.
Just like a Chinese man reads Chinese easily and an Italian reads Italy easily.
You read this web page the way it is while Google spiders enjoy reading it as HTML.
The whole process is called CRAWLING.
Crawling helps Google bots (spiders) to understand what you have written on your page.
Moving On…
Some other web pages have also written on these things.
After Google understands these web pages, it sorts them and saves them in their storage.
That process is called INDEXING.
QUICK FACT: Google has over 130 Trillion web pages in its index as at 2016 from 30 Trillion in 2013!
Let me explain Indexing this way.
Let's say you went shopping for some clothes.
After buying them, you sort them according to type e.g Sweaters, T-shirts, Trousers, Underwears e.t.c in your wardrobe.
That way, when you need a trouser, you simply know which section of your wardrobe to go to without wasting time.
The same thing happens when you need other types of dresses.
So, by knowing your clothes and sorting them accordingly, you can easily find them when you need it.
Comparing it to the way Google works…
By knowing (via Crawling) and Sorting/storing (Indexing) web pages, Google can display results to Searcher IMMEDIATELY they search for it.
For example, when I searched for "most expensive cars in 2019", I get the result below:
And…
The results above show the web pages that Google THINKS deserves their various respective positions.
Let me quickly refresh your memory with this example.
For these web pages to appear for the search term, some things must have happened.
First, Google spiders crawled the various web pages.
Next on, Google spiders believe that the content of the web pages will provide the answer to people that search for "most expensive cars in 2019".
That's right.
Now, the question is, "how does Google understand that these pages are about most expensive cars in 2019?"
In order to answer that question, I will open the first 3 results.
The first page.
As human seeing this page, do you think it will solve your problem if you were the one searching for the most expensive cars in 2019?
If yes, what was your first hint?
The title!
That's it.
The same way you read and understand the title of the web page, Google spiders also understand the title using HTML.
And the hint? The keyword/search term "most expensive cars" appears in the title.
Don't forget: Title is the first thing users/Google bots read when they enter a first page.
Look at the other result on Google SERP below for the same search term.
You can see how the search term (keyword) is placed in the title and meta description?
That is how Google spiders know that the page is about expensive cars in 2019.
Not only that, the keywords also appear in the content on the pages like:
And
HINT: Keyword in title doesn't have to be exact-match. Google bots now understands that "Gaming desktop" and "Gaming PC" can mean the same thing.
Simply put, Google understands synonyms and related words.
That way, when I search for "best gaming PC"
A result with a title best gaming desktop can still rank high on Google as seen below: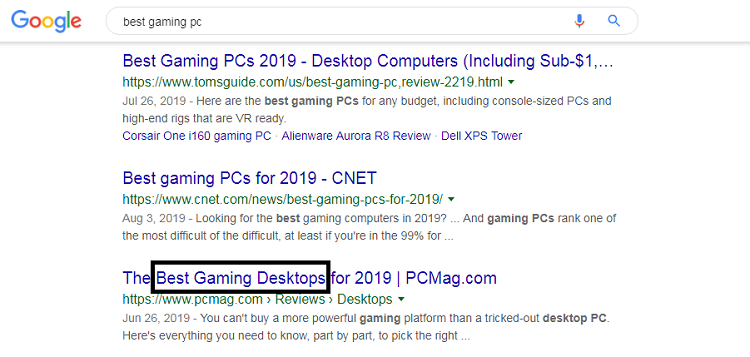 P:S – There are many things Google spiders read on a page to know what the page is all about. The ones discussed above will give you an insight into what Crawling means.
So, by crawling and observing all these things, Google is able to fully understand what a web page is all about.
That way, Google displays RELEVANT results to its users.
The video below by Matt Cutts (former Googler) will give you more insight into what Crawling, Indexing is about.
Now, we have discussed so far how Google Crawl and Index web pages.
There's one last thing we need to discuss and that takes us to:
Ranking: Understand How Google Rank Web Pages On SERP
Search terms can have hundreds, thousands or millions or web pages that are RELEVANT to them.
Look at the image below:
It shows that there are about about 681,000,000 results.
That's a very huge number of indexed pages.
And another.
3,290,000 results!
…Yet only 5-10 results make it to Google first page.
And these 5-10 web pages get to share at least 91% of the search traffic for that search phrase.
Now, this isn't random.
If a page is in the first position, Google thinks it deserves that spot at that moment and gets the highest amount of traffic from that keyword.
The $64,000 question now is, "How does Google know which of the web page deserves 1st, 2nd, 3rd spot?
Or even the last position.
You have to understand this part very well.
That way, you can now begin to do WHAT IS RIGHT so as to rank on not just the FIRST PAGE but the FIRST POSITION.
Of course, Google rank web pages based on some criteria.
These criteria are called "Google Ranking Factors"
Quick Fact: There are slightly over 200 Google Ranking Factors.
Brian Dean (of backlinko.com), one of the best SEO experts published an article on the most important Google Ranking factors.
He picked 13 out of the 200+ factors to be the most important that matters in Ranking.
I agree with the list and you can check it out below:
Apart from Google ranking factors, there are several Google algorithms such as
Google Hummingbird update
Google Panda update
Google Penguin update
Google Pigeon update
Medic update in 2018
March 12 core update in 2019
June Core Update in 2019 e.t.c.
They automatically decide the ranking power of a page and hence decide how high they rank on Google.
The algorithm updates will be fully discussed in coming episodes.
You can as well follow changes in algorithm updates on www.searchengineland.com
Bottom Line
Google ranks blogs using ranking factors and constantly update their algorithms in order to serve their users better.
It is your duty as a blogger to know and understand these ranking factors and follow the algorithm changes so as to know WHAT and WHAT NOT to do.
Now, I believe you understand how Google ranking works, what crawling and indexing mean.
In coming guides, I will be exposing you to secrets to rank HIGH on Google SERP in order to boost your traffic and enjoy massive leads.
If you enjoyed the guide, make sure you share and drop a comment below.
Also, don't forget to subscribe so that you will be notified as soon as I release the next guide.