Roku TVs are smart TVS with Roku OS built in as the "brain" of the TV. These smart TVS were first released in 2014, and since then have grown very popular in United States and other select countries. Before then, the parent company Roku Inc started with set-top boxes and were popular for low-cost, small-form-factor set-top boxes for over-the-top media consumption.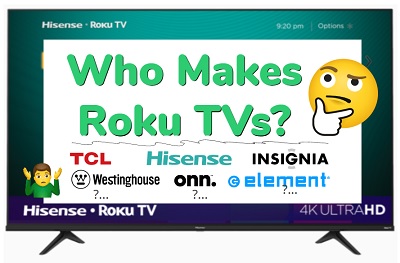 Due to the variety of the Roku TVs available under different brand names like "TCL Roku TV", "Hisense Roku TV", "Insignia Roku TV", it often raises the question, "who makes Roku TVs?". Are they are made by the same company and sold by different brands, or does each brand TV come from a different manufacturer? If it's the latter, how does it work then?
Who Makes Roku TV?
Roku TVs are made by various companies like TCL, Hisense, Insignia, Westinghouse, Onn, Element, RCA, Philips and more. The hardware used in the manufacture are made or sourced by these licensed brands, while the software (Roku OS) which the TVs are built on is owned and provided by Roku Inc.
In other words, Roku Inc. which is headquartered in San Jose, California, U.S.A does not manufacture any of the Roku TVs. Instead, the company provides the operating system on which the TVs are built while the various licensed Original Equipment Manufacturers (OEMs) actually build the smart TVs.
Therefore, although all Roku TVs have the Roku OS installed on them, there can be a massive disparity in the performance, picture and quality of hardware used by the various manufacturing brands.
Other than these smart TVs, Roku also have a range of standalone streaming devices (streaming sticks) which can be attached to other smart TVs to access the Roku OS interface and channels. These Roku sticks are however manufactured by the parent company, Roku Inc.
Now, let's take a look at each of these licensed manufacturing companies and how they make their TVs.
TCL
TCL is a Chinese electronics company headquartered in Huizhou, Guangdong Province. The company is one of the first few brands that were certified by Roku. In 2014, TCL partnered with Roku for use as TCL's primary Smart TV platform.
When the company introduced Roku TV in January 2014, TCL and Hisense were the first to partner up to manufacture the first Roku TV which was released later that year which Wired described as the "first smart TV worth using".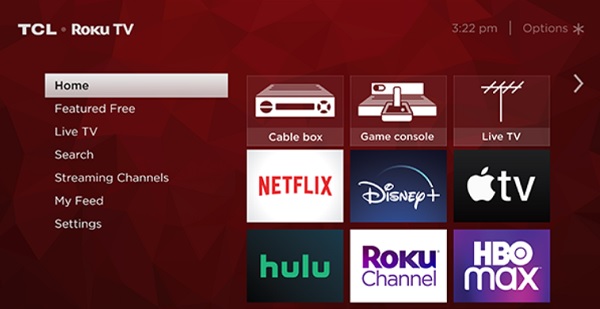 Not surprisingly, TCL Roku TVs are some of the best Roku smart TVs out there (and the TCL 6-Series Roku TV R635 has been rated has the best Roku TV with excellent QLED and mini-LED display, 120Hz refresh rate, great gaming performance and an improve Roku remote).
Hisense
Hisense Group, the largest TV manufacturer in China by market share since 2004, is a Chinese multinational major appliance and electronics manufacturer headquartered in Qingdao, Shandong Province, China.
They are also one of the most popular TV brands across the globe, owning at least 14 manufacturing parks worldwide and a number of production bases.
In 2014, the companies partnered with another Chinese company, TCL to manufacture the first Roku smart TV. Since then, the have released some of the best performing Roku TVs at budget-friendly prices.

Unlike TCL, Hisense has a larger smart TV collection as they also have series of Fire TVs, Android TVs, Google TVs, XClass TVs and their own Vidaa OS smart TVs.
In 2019, Hisense also partnered with Roku to introduce the first Roku-powered TVs into the United Kingdom.
Onn
On November 14, 2019, Walmart and Roku announced that they would be selling Roku TVs under the Onn brand exclusively at Walmart stores, starting November 29. These were only available at the Walmart U.S. stores until May 2022 when the partnership was extended to Walmart Canada.
ONN. TVs, which are Walmart's in-house brand TVs are sold exclusively on Walmart store just like Best Buy's Insignia TVs and are known for some of the most budget-friendly TVs. In fact, the first 4k Onn Roku TVs in 2019 were sold for as low as $98!

Onn Roku TVs are made by Durabrand, a private label tradename of Walmart. However, like private label brands, Durabrand is a chain of different manufacturers like Funai, Orion, Maxell, Resonance, Initial Technology, and many other different companies.
Element
Element Roku TVs are manufactured by a private company, Element Electronics. They have a plant factory in Winnsboro, South Carolina making them the only major television company assembling TVs in the United States.
In May 2020, Roku announced a 55-inch outdoor Element Roku TV which offers minimal reflection, an anti-glare display, 4K streaming, and can be used in bright outdoor environment, and is available on Walmart.
Insignia
In 2015, Roku also partnered with Insignia for the manufacture of Best Buy's in-house brand Insignia Roku TV models.

Although Insignia TVs are owned, branded and sold almost exclusively by Best Buy, the TVs are actually manufactured by various contract manufacturers.
Like many private-label, in-house products, various components of Insignia TVs are sourced from brands like LG, Toshiba, Samsung, TCL and are assembled by contract manufacturing companies in China and Vietnam.

However, newer Insignia TVs run on Fire OS and no longer on Roku OS.
Westinghouse
In January 2019, Roku Inc. announced partnership with Westinghouse for the manufacture of HD and 4K Roku TV models.
Other Roku TV Manufacturers
Other than TCL, Hisense, Insignia, Onn, Element and Westinghouse, Roku smart TVs are also made by other manufacturing partners like Sharp, RCA, Philips, Magnavox, JVC and Hitachi.
Are Roku TVs Good?
Roku TVs are very good smart TVs that run the Roku OS, which has a simple and nice interface. The TVs also offer a huge selection of streaming apps (called channels) like HBO Max, Netflix, Hulu, Prime Video, Apple TV, Peacock, Disney Plus, YouTube, Spotify, Pluto TV, Crunchyroll and many more.
In January 2022, the OS was announced as the No. 1 smart TV OS sold in the U.S. according to NPD's weekly tracking service. That was the second year in a row having first made the record in 2021.
However, other than having the same operating system, there is a wide massive disparity in the performance, picture and quality of hardware used in the manufacture of these smart TVs which depends on the particular OEM brand Roku TV.
Without any doubt, when it comes to Roku TVs, the best and most prominent models are those made by TCL and Hisense (especially the former). This is not surprising since TCL was the first certified Roku TV brand, in addition to having Roku OS as their primary OS unlike Hisense which has series using other operating systems.
Where Are Roku TVs Made?
Since Roku TVs are manufactured by various Original Equipment Manufacturers (OEMs) which are in partnership with Roku Inc., the TVs are made in several manufacturing plants owned by the various partner companies across the world.
The two biggest Roku TV manufacturing brands, TCL and Hisense are headquartered in China but also have also production and assembly plants globally.
Now, you know who makes Roku TVs and where they are made. Have you have an previous experiences with Roku TVs? Do you currently use one? Share your experiences in the comment section.