If you have been wondering who makes LG TVs and where LG TVs are made, then you will find all the answers you are looking for in this guide.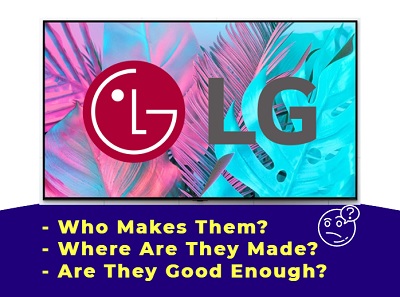 LG is known to be one of the most innovative brands in the electronics niche, and this edge is responsible for their rise above many competitors in the global television market, currently being the world's second largest TV manufacturer behind Samsung.
Speaking of innovation, LG developed the world's first 77-inch transparent flexible display, the world's first 65-inch 8K OLED, the world's first 65-inch UHD crystal motion OLED panels, the world's first 88-inch 8K OLED TV panel, the world's first 65-inch UHD rollable TV panel among many more innovations.
Without any further ado, let's take a look at the first question: Who makes LG TVs?
Who Makes LG TVs?
LG TVs are made by LG Electronics Inc, a South Korean multinational electronics company with headquarter in Yeouido-dong, Seoul, South Korea. They are also the world's second largest TV manufacturer, being only behind Samsung Electronics.
The LCD panels, cutting-edge OLED screens and flexible displays used in LG TVs are manufactured by LG Display, one of the subsidiaries of LG group.
LG Display is one of the world's largest display company and world's largest display company by revenue in 2020.
LG Electronics (formally GoldStar Co. Ltd) was merged with the current holding company, LG Corporation which was established as Lak Hui Chemical Industrial Corp (Lak Kui pronounced "Lucky") at the time to form Lucky-Goldstar in 1983. In 1995, Luck-GoldStar was renamed to LG.
In 2007, LG Electronics introduced its first internet TV which was branded as "NetCast Entertainment Access" devices. In 2011, these started calling these "LG Smart TV" when more interactive features were added which allowed users to receive information from the internet while watching conventional TV programs.
Quick Fun Fact: LG does not stand for "Life's Good", although it is commonly associated with it. LG is from Lucky-GoldStar which was the company's name between 1983 and 1995. However, "Life's Good" is the company's slogan which was first used in the Australian branch in 1994 and was then adopted globally. Since 2016, the company has also been using the slogan "Innovation for a Better Life".
In 2021, the World Intellectual Property Organization (WIPO)'s annual World Intellectual Property Indicators report ranked LG's number of patent applications published under the PCT System as 4th in the world among 2,759 patent applications being published.
This is a proof of LG's competitive edge being innovation.
Where Are LG TVs Made?
LG TVs are made in various manufacturing locations around the world owned by LG Electronics. The headquarter known as the LG Digital Twin Tower in Yeoui-Daero, Yeongdeungpo-Gu, Seoul, South Korea. Other factories are located in Viet Nam, China, India, Indonesia, Russia and Mexico.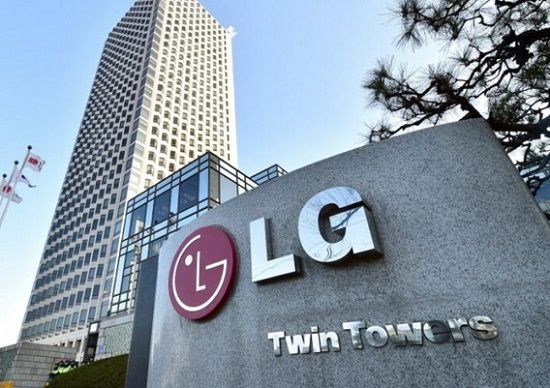 Korea
The company has eight manufacturing plants in Gumi and Paju, South Korea. In December 2014, LG started mass production of 8th generation OLED production line (E4) in Paju, Korea.
Mass production of the 6th generation P-OLED production line (E6) in Paju started in July, 2019, which had begun in the Gumi plant 2 years earlier. Source: lgdisplay.com
Viet Nam
LG manufacturing company in Viet Nam used to be the company's largest smartphone production base before the company decided to withdraw from the smartphone business.
Since then, the Haiphong Campus in Viet Nam which was opened in 2015 has been restructured and reorganized to manufacture televisions and other home appliances.
China
In 2019, LG completed its 8.5th general OLED panel factory in Guangzhou, China for the production of OLED displays. The Guangzhou plant was once initially shut down due to a drop in production yield and the resumption of operation was delayed in early 2022 due to the corona virus outbreak.
Operations eventually resumed around mid 2020, and according to an LG Electronics official in 2020, LG Display's plant in Guangzhou, China delivers the panels for 48-inch OLED TVs to LG Electronics.
Since then, the factory has completed a mass-production system of OLED panels for LG televisions, producing about 1 million OLED display screens annually.
LG also has a module assembly plant in Guangzhou, as well as in Nanjing, China.
India
The Pune factory is India is one of LG's best factory for manufacturing televisions among all LG facilities.
In 2018, LG India started open cell manufacturing of televisions at its Pune facility in India with two models, and plans to scale it up while deciding to pass on the benefits derived from lower taxation from such manufacturing to consumers.
LG manufactures its entire television range in India, except one super premium 77-inch model which is imported from Korea. However, it is a matter of time before this model is manufactured in the factory too.
Indonesia
LG has another factory in Cibitung, West Java Province, Indonesia. In 2016, the unit in Indonesia produced three new television products – the LG OLED 4K TV, LG Super UHD TV 4K and LG webOS 3.0 Smart TV.
The LG Indonesian factories are the production hubs for OLED TVs and Ultra HD TVs for the Southeast Asian and Australian markets, all in a bid to boost market share for the parent company in Indonesia.
It was announced that about 30 types of Ultra HD TVs ranging from 40 inch to 84 inch-sized televisions will be produced in the factory, as well as 55 inch to 68 inch-sized units LG OLED TVs.
Russia
LG has another manufacturing plant facility in Ruza, Russia with a production output of up to 1 million LG television in a year. It is one of the largest production plants in Europe.
These units supply Russia, Asia and Caucasus regions, while some of the products go to the Eastern European countries.
In March 2022, LG suspended all shipments to Russia.
Mexico
LG used to have three manufacturing plants in Mexico. The largest LG facility in Mexico is located in Monterrey, while the other two are in Reynosa and Mexicali.
In 2009, LG invested US$100 million over three years to increase capacity to US$4 billion while also restructuring the three Mexican production bases into two. The separate plants in Reynosa and Mexicali were integrated into one in Reynosa for the production of mid-large size and premium TVs.
The integration of the two plants was done to generate synergies among plants in Mexico, while further improving capabilities to serve customers in North, Central and South America.
The facility in Monterrey serves consumers worldwide.
Poland (Closed)
In 2007, LG opened a module assembly plant in Wroclaw, Poland where workers assemble LCD TV sets. It was announced to be one of the three global supply points for liquid-crystal display (LCD) TVs along with its factories in Paju, South Korea, and in Nanjing, China.
The factory was producing up to 3 million LCD modules and 2.4 million TV sets built on the LCD modules, until it was closed in 2019 to cut its losses to the Chinese competition in the LCD business while shifting its focus to OLED display TVs which LG Electronics launched back in 2013.
The Polish manufacturing site was then sold to LG Chem, another subsidiary of the parent group.
Are LG TVs Good & Should You Buy One?
LG Electronics is one of the few companies that make both OLED and LED TVs. The OLED display TVs provide some of the best performances with excellent displays. While there are some LG LED TVs with good displays and performances too, they do not meet the quality of the OLEDs.
LG is known to be one of the most innovative brands in the television niche, and this edge is responsible for their rise above many competitors, currently being the world's second largest TV manufacturer behind Samsung.
Among several innovations, LG also introduced LG OLED.EX in 2021 (OLED: organic light emitting diode EX: 'Evolution' and 'eXperience'), a proprietary OLED technology brighter than standard OLED by up to 30% while also having thinner bezels.
So, if you are looking to at getting an LG smart TV, then you can be certain they have some of the best and durable smart TVs out there. Some of the best LG webOS smart TVs currently include the LG OLED G2, LG OLED C2, LG OLED C1 and others.
Bottom Line
Now, you know who makes LG TVs and where they are made. LG TVs are made by LG Electronics which is headquartered in Yeongdeungpo-Gu, Seoul, South Korea. They also have various manufacturing plants in different locations like Viet Nam, China, India, Indonesia, Russia and Mexico.