You leave your Nintendo switch in its case and come back to it, only to notice that it's suddenly showing an orange screen and you can't seem to get the solid color away no matter what you do. This has been happened to a lot of other users just like you over the last couple of years, and still happens even in 2023.
This issue has been noticed on both the regular models and the OLED model. For some users, the issue started after a firmware update or during/after downloading a game. For others, it started out of nowhere after booting up the system from rest mode.
In this guide, I am going to discuss two things:
First, why your Nintendo switch has an orange screen
Then, how to permanently fix a Nintendo switch with a bright orange screen
So, if that sounds like what you've been looking for, let's dive right in!
Why Does Your Nintendo Switch Have an Orange Screen?
Nintendo switch orange screen of death can be caused by hardware damage after dropping the switch on a hard surface. In some other instances, it can be caused by an overheated Wi-Fi chip which can be caused by repeated use overtime.
When switches are faulty and the system detects a failure in one of more of the components, the screen displays a solid color all of which have different meanings. The solid orange color on Nintendo switches is classified as an unknown exception in the panic code.
However, hardware damages do not necessarily have to come from dropping the switch. In fact, an overheated Wi-Fi chip has proven to be one of the most common causes of the orange screen on Nintendo switch (or switch lite), and that can happen just from simply using the switch overtime.
Now, let's look at the proven methods to fix a Nintendo switch or Nintendo lite switch with orange screen.
How to Fix Nintendo Switch Orange Screen Issue
Below are some proven ways to fix Nintendo switch orange screen of death issue in 2023:
1. Perform a Hard Reboot
One method that has proven effective in fixing Nintendo switch orange screen of death issue is a hard reboot. Here's how to do that:
Hold the power button for 10-30 seconds to force shut it down. Once the screen is off, press the power button again to turn it back on. Doing that will immediately fix the Nintendo switch orange screen error, and you are good to go.
Once the orange screen issue has been fixed, you should go ahead and do the next thing – check and update the system firmware.
According to some users who were able to fix the issue, the hard reboot only fixed the issue temporarily and the issue started a few weeks/months later. This may or may not be the case for you, but it is the easiest way to fix the issue.
Although, performing the hard reboot will fix the issue again if it happens to repeat itself, you will definitely be more interested in more permanent fixes (which I will discuss later in this guide).
For now, go ahead and update the firmware first to fix any software bug causing the issue.
---
2. Perform a System Update
Once the hard reboot has been fixed, the next thing is to update the system firmware. This will remove any software bug that could cause the orange screen issue to repeat itself.
That said, here's how to perform a system update on your Nintendo switch:
On the Home menu, select 'System Settings'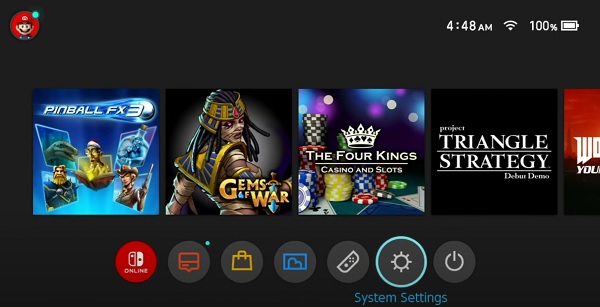 Scroll down and select 'System > System Update'.
The system will first perform a check to determine if a new system update is available.
On the next page, click on 'Update'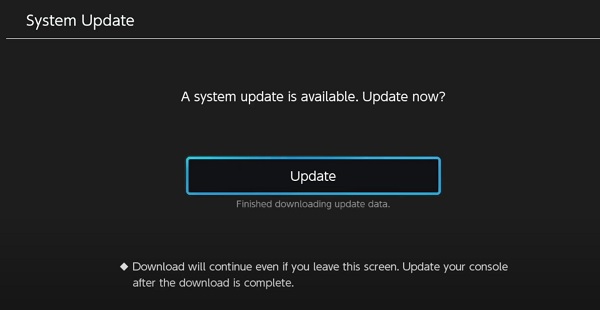 You will seeing a prompt asking you to confirm it, click on 'OK'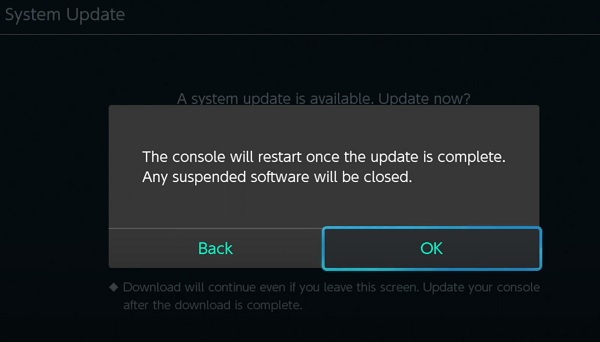 Once the system update is complete, any software issue should be fixed. Even more, corrupt cache files will be removed during the update.
You can also manually remove corrupt cache files by power cycling your switch. To do that, allow the battery to drain by keeping it turned on and not charging it. Once the battery is drained, press the power button for 15 seconds. Finally, charge the switch fully and turn it on afterwards.
Once done, any software issue will be fixed and you will stop seeing the orange screen on your Nintendo switch or Nintendo switch lite. However, if the issue happens again, then it is an hardware fault and has to do with the Wi-Fi IC.
---
3. Reflow the Wi-Fi IC
If the Wi-Fi chip has become overheated, you can fix this by reflowing the IC. This is a more permanent fix for the Nintendo switch orange screen of death error, but it's more technical.
NOTE: If not done right, you may damage the switch beyond the orange screen issue and may need to replace the IC in that case. If you are still under warranty, just go ahead and get it fixed. Otherwise, you either have the option of doing the hard reset every time it happens or just giving this more permanent fix a try.
Now, here's what you need to do (I have embedded a video below the instructions to show you a visual demonstration):
Remove the screws and open up the switch
Remove the motherboard from the case. You don't want to do this with the motherboard still inside the case to prevent damaging the chassis or the LCD
Next, disconnect the embedded MultiMediaCard (eMMC) module from the board
Lift the EMI shield to expose the Wi-Fi IC and add a little flux to the area
Start heating the IC board slowly and with a soldering air gun (at 400-450 degrees Celsius) for up to 5 minutes until flux around the IC starts to bubble
Once complete, clean the motherboard using isopropyl alcohol or using an ultrasonic cleaner to reassemble the device.
Now, you can proceed to test the switch. If done right, it should start working fine
However, if you still get an orange screen or no power at all, you'll need to replace the IC instead.
If you are not very technical and don't want to do the procedure yourself, you can contact Nintendo support for a fix or replacement if you are still under warranty. Otherwise, you can get it fixed for a price or just get a new switch.
---
4. Get It Repaired or Replaced
At this point, your best option is to contact Nintendo to get your switch fixed or replaced. If you are still under warranty, there is no repair cost for this and you will get it fixed or replaced in within a couple of days depending on your location.
Alternatively, you can also get it fixed at any Nintendo switch repair shop near you.
Nintendo Switch Orange Screen Repair Cost
The repair cost for a Nintendo switch with the orange screen issue is between $89- $110 depending on your location and where you are repairing it from. If you are getting it fixed from Nintendo's official factory service repair, you will be given a price quote.
Your repaired or replaced system will also receive a 100-days repair warranty, starting from the day it is shipped back to you.
If you found this content helpful, kindly share your feedback in the comment section below.