if you are wondering what URL blacklist is, what Avast URL:blacklist keeps popping up, then you are on the right page.
In today's guide, I am going to show you everything you need to know about website URL blacklist including what URL:blacklist is, Google URL blocklist, Avast url:blacklist meaning, how to check if a URL is blacklisted, why a website might be land in the blocklist, URL blacklist virus, the effects and how to fix the issue.
Sounds like what you are looking for?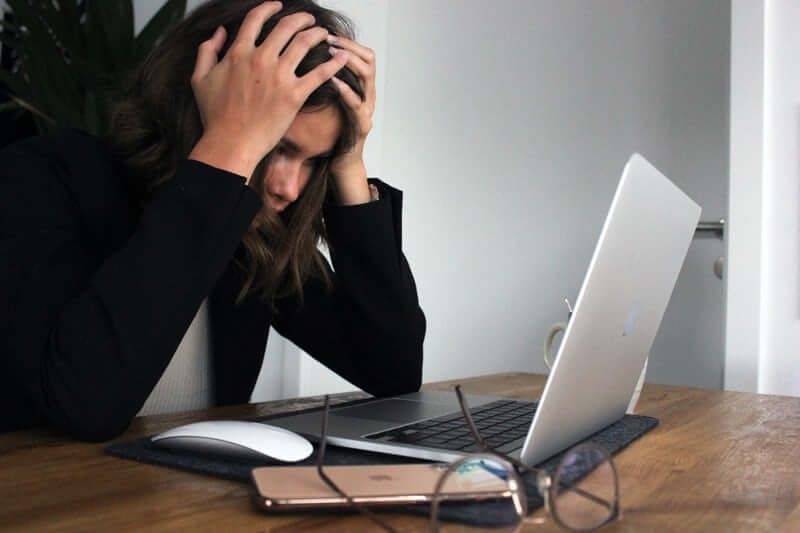 Then, let's get started right away!
Feel free to use the table of content below to jump to any section you are interested in.
First, What is a URL Blacklist?
A URL blacklist contains a list of websites that are deemed insecure/unsafe for browsing by search engines (Google, Bing, Duckduckgo e.t.c), antivirus softwares (Avast), or browsers (Chrome, Fireforex e.t.c) because of one of more suspicious activities that are detected on the website.
Let's take Google as a search engine for example.
Google takes online security very seriously and wants to protect its users.
In fact, Google will go to extreme measures of actually removing a website from its index if such website is found to go against its quality guidelines.
In other cases, Google may keep the website indexed while warning users of the possible danger ahead when they try to visit such website in the search engine or on the browser.
You may see such warning on Google search engine result page that looks like this:
Or if they website has been blacklist by Google Chrome browser, you can see errors like:
Every day, we discover thousands of new unsafe sites, many of which are legitimate websites that have been compromised – Google
The warnings that may be presented to users vary depending on exactly what kind of suspicious activity is detected on such website. Some of the warning messages include:
Deceptive site ahead
The site ahead contains malware

The site ahead contains harmful programs

This page is trying to load scripts from unauthenticated sources
NOTE: Google started making efforts since May 2018 to replace the term "Blacklist" and "Whitelist" with "Blocklist" and "Allowlist" respectively in Chrome, in a bid to be racially neutral. It all makes sense especially since Google is publicly in support of the Black lives matter movement.
Now, if you are wondering, "How does Google detect these suspicious websites?"
Well, to a large extent, Google actually uses automatic algorithms when their bots crawl websites to detect and compile these potentially dangerous websites.
This bots can detect suspicious codes, scripts, plugins or virus on a website that can make a URL land in the blocklist.
User feedback is another way by which Google detect such websites.
Another example is what you see on Avast antivirus software (if you use it), you get a message that shows "Infected with URL: Blacklist" or "URL:Blacklist"
If you think it is a mistake and want to remove Avast URL:Blacklist notification when you visit a website, jump here.
Is URL Blacklist bad?
For the website owner, YES.
If your website is blacklisted, there are so many negative effects it will have on your website such as:
Drop in Click-thorough-rate (CTR) of a website
Drop in Google SERP ranking (which means decrease in visibility and traffic of a website) or total removal of website from Google index and that of other search engines
Can affect monetisation e.g Google ads getting suspended
However, for a user, it's not necessarily bad.
As a user, you can add a website to your router network blacklist to prevent access to such URL. You can easily use this a parental control technique, or block unwanted ads on your devices if you know the URLs that they ads load from.
Why a Website Might Land in the Blacklist?
There are several reasons why a website URL might get blacklisted.
Some of these include:
Website that contains virus (URL blacklist virus)
A website can land in Google URL blocklist in Chrome or other browsers if it contains the URL blacklist virus.
The URL blacklist virus can find its way into a website through various means. It can either be intentionally added by the webmaster or unintentionally (for example, when a webmaster uses nulled or pirated themes/plugins/libraries on is website which unknowing to him contains the URL blacklist virus, which could have been added by the theme developer for the purpose of attacking webmasters that use them or by another attacker who then shares it freely to webmasters that need them as the "nulled" version).
This is why you should stay clear of free themes that are not available on the official WordPress themes directory, or nulled version of premium themes. The same applies to plugins.
Pages that contains malware or promote an unwanted software
According to Google:
A malware is any software or mobile application specifically designed to harm a computer, a mobile device, the software it's running, or its users.
Unwanted software is an executable file or mobile application that engages in behavior that is deceptive, unexpected, or that negatively affects the user's browsing or computing experience.
Examples include software that switches your homepage or other browser settings to ones you don't want, or apps that leak private and personal information without proper disclosure.
You can read more on malware and unwanted software here on Google Search documentation. 
Websites that practice social engineering techniques
Social engineering is content that tricks visitors into doing something dangerous, such as revealing confidential information or downloading software.
A typical example of social engineering is phishing.
Phishing is a type of social engineering where an attacker sends a fraudulent (e.g. spoofed, fake or otherwise deceptive) message designed to trick a human victim into revealing sensitive information to the attacker – Wikipedia
This often involves the use of scripts that scrap user's information illegitimately.
For example, an attacker can design a page that looks similar to a social media login page, redirect users to such page and when users try to "login" into their social media account, their login details get sent to the attacker who then uses the details to login to their social media account, likely changing their password in order to get certain benefit(s).
In a lot of cases, the webmaster is not the one who engages in any of the practices listed above.
A hacker can gain access to a website, and do one or more of the above for his/her own benefit.
How to Check if a Website is Blacklisted
The next question is, "How do I check if a website is blacklisted?"
Well, that's easy.
Head over to Google's safe Browsing site status checking tool by clicking here.
Enter your website URL in the box and click on the search icon, or click on "Enter" on your keyboard
The result will be displayed to you
If there are no suspicious activities detected on the website or traces of URL blacklist virus, you will see a result like the one below:
Otherwise, you will get a result showing what the issue is with such website.
Now, let's say your URL is blacklisted on Google for whatever reason (hacked, contains the URL blacklist virus or malware, contains unsafe content, engage in social engineering), the $365,000 question is, "How do I fix my blacklisted URL?"
Now, that is the technical part.
I will assume that in this case, you weren't responsible (at least not intentionally) for the blacklisting, otherwise you wouldn't be looking for a solution here.
How to Fix Your Blacklisted URL
Like I have explained earlier, there are a number of reasons why you can end up in the URL blacklist. So, depending on that reason, here are the things you should do.
1. Find the source of the problem
The first thing you want to do is to scan your website.
NOTE: It is recommended that you backup your website before you do this.
You can do this by scan your whole website (including database and files on the server) for potentially dangerous virus, malware and other threats.
Then, if found, remove the malware/virus while making sure you do not break your website.
In other to do this, you can scan using Jetpack, Malcare, WordFence e.t.c
You can also scan it via your cPanel or contact your hosting provider for help in finding the source of the problem (if your hosting provider offers such service).
This resource by Google will help you if your website was hacked.
2. Remove plugins/themes from untrusted source (if any)
If you have any theme/plugin on your website that is not from the official WordPress directory (free ones) or from the official website of the themes develop (for premium ones), then remove them on your website.
3. Report incorrect warning
In a case you got a warning on your Google search console and you are absolutely sure that no such thing is on your website (e.g. you get a warning for phishing page, you can report for incorrect phishing warning by here)
4. Submit for Review
If you successfully found and removed the source of the warning, the next thing is to notify Google that you have removed the suspicious page(s), virus, script, malware or content from your website.
Once Google confirms that the issue is no longer found on your website, your URL will be removed from the blacklist.
To do this, go to the "Security issues" tab on your Google search console.
Select "I have fixed these issues"
Click on "Request a review"
How to Protect your Website from the URL Blacklist
Use trusted secure hosting providers
Switch to HTTPS
Implement Cloudflare (I personally use Cloudflare for so many things on this blog. You can use it to speed up your blog, get Firewall feature for protection, get free SSL certificate and many more)
Avoid using nulled plugins/themes
Use strong passwords, limit login attempts and hide your login page from the generic wp-websiteurl/login.php if you are using WordPress CMS
Scan your website regularly
How to Remove Avast URL:Blacklist
If Avast URL Blacklist keeps popping up, what does it mean and what can you do?
If a URL has been infected with url:blacklist virus, then you will probably get a "url:blacklist" on Avast antivirus software.
If you are getting such notification, but you still want to visit the website anyway, then follow the procedures below to successfully remove the website from Avast URL:blacklist.
Open the Avast antivirus software and click on Menu
Click on the Settings tab, then click on Exceptions
Under this, click on ADD EXCEPTION
Enter the URL you wish to remove from the Avast URL:blacklist and save it.
You will be able to visit the URL without seeing the avast URL:blacklist notification.
Now, I hope I have been able to answer your question(s) on URL blacklist and Avast URL blacklist. If you have any more question, feel free to use the comment section below. 
Don't forget to drop a comment if you found it helpful. Also, share the content with others by using the share buttons below.