In this guide, I am going to show you how to activate windows 10 for free permanently in 2022. I will show you two methods to do this.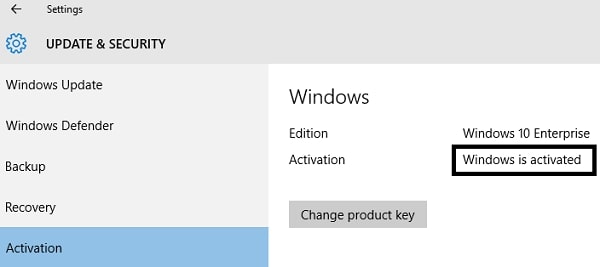 If your Windows 10 PC is not activated, you will see a watermark in the bottom-right corner of your desktop screen and you will have limited personalization options on your desktop while you keep on getting constant reminders to activate your Windows.
First, I will show you 2 ways to activate it using a product key. Then, I will show you another method to activate without a product key.
These methods work for any Windows 10 edition including:
Windows 10 Home
Windows 10 Home N
Windows 10 Home Singe Language
Windows 10 Professional
Windows 10 Professional N
Windows 10 Education N
Windows 10 Enterprise
Windows 10 Enterprise N
Without any further ado, let's dive right in!
How To Activate Windows 10 Using Product Key
In this method, you need a product key to activate your Windows 10, and there are a number of ways to obtain a product key depending on whether your Windows 10 is freshly installed or not.
Method 1 – Using Product Key from Microsoft
A product key is a 25-character code used to activate Windows, and it looks like PRODUCT KEY: XXXXX-XXXXX-XXXXX-XXXXX-XXXXX in the package or confirmation email if you purchase it online on Microsoft store.
If you use your Windows 10 PC mainly at home and maybe for personal use (including personal works), you can simply get Windows 10 Home product key here on Microsoft store.
However, if you intend to connect to a corporate or school network, then you can activate using Windows 10 Pro product key here.
The latter includes all the features of Windows 10 Home operating system plus Remote Desktop, Windows Information Protection, BitLocker and a suite of tools designed for business use. Windows 10 Home product key costs $139 on Microsoft store while Windows 10 Pro costs $199.99.
There are also other retail stores that you can purchase the license on, which are usually cheaper. However, the downside is that you do you get product support from Microsoft when you purchase from these stores.
NOTE: If your license doesn't match the Windows edition that you bought, Windows will not activate. You can check your Windows 10 license edition under Settings > Update & Security > Activation.
Once you have the product key (which will show on your Microsoft account order page and will also be sent to your email after successful purchase), now you need to enter it to activate your Windows 10. Here's how to do that:
Tap the Start button and go to Settings
Select Update & Security > Activation > Change product key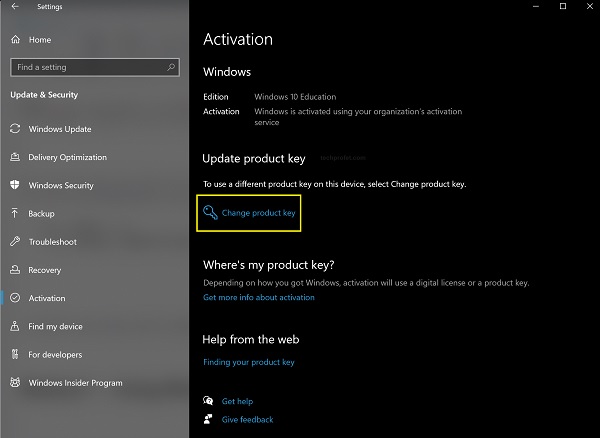 Now, enter the product key you received from purchase and click on Next
If you entered a valid product key that matches the edition of Windows 10 installed on your computer, you will see 'Activate' button. Click on it and Windows 10 will be activated successfully.
---
Method 2 – Using Microsoft OEM System Builder
An alternative method to activate Windows 10 using a product key is to use Microsoft OEM system builder.
OEM stands for Original Equipment Manufacturer. This means that when you purchased your computer, your computer manufacturer put an OEM copy of Windows 10 on it which come with a product key that will activate it successfully.
If you don't already have one, this OEM copy of Windows 10 Home and Pro can be purchased as DVD or USB format and will come with a product key to activate the Windows 10. For example, you can get it here on Amazon.
NOTE THE FOLLOWING:
OEM is to be installed on a new PC with no prior version of Windows installed.
It cannot be transferred to another machine, and can only be used on a single computer
With OEM copy of Windows, you do not get free support from Windows. Although, in my own experience, there is rarely ever a need to (actually, I've never had to in my years of using Windows). But, if you care about this, then don't use it.
The activation key will be found under the scratch-off area on the label when you purchase the product
Finally, this product is intended for 64-bit computers and comes in DVD format (hence, your Windows computer should have a CD-ROM to run and install it before the activation)
Now, there is one more method you can use to activate your Windows 10 without a product key which I will now show you in the next section. Most times, I've been able to activate Windows 10 for free using this method. 
How To Activate Windows 10 for Free Without Product Key
By using a digital license, you can also activate your Windows 10 for free without product key. This digital license can be gotten alone, and sometimes can be attached to your Microsoft account.
A digital license (called a digital entitlement in Windows 10) is a method of activation in Windows 10 that doesn't require you to enter a product key.
If you had previously activated your Windows 10, but you made a software change that causes your Windows 10 to no longer be activated, then you don't need a new product key or digital license if your digital license is already linked to your Microsoft account.
All you need need to do is simply login to your Microsoft account on your Windows 10 computer if you haven't already. Once signed in, your digital license (if attached to your account during the previous activation) will automatically activate your Windows 10 computer once again.
To do that, go to the Windows 10 activation page via Settings > Update & Security > Activation. On the activation page, select 'I don't have a product key' option. Next, proceed to login to your Microsoft account. If your digital license was linked to it, the Windows 10 will be automatically activated at this point.
Alternatively, you can use the method below:
Go to Microsoft account and select Sign in.
Type the email, phone number, or Skype sign-in that you use for other services (Outlook, Office, etc.), then select Next.
Next, type in your password and click on 'Sign in'
You can open and check the Microsoft store app on your Windows 10 computer to make sure your sign-in has been synchronized to your computer.
In most cases, Windows 10 activates automatically using a digital license and doesn't require you to enter a product key.
However, if a product key is required, it can usually be found in the confirmation email you received after purchasing Windows, or in the box Windows came in.
On the other hand, if you do not have a digital license, you can purchase a digital licenses. To do that, tap the Start button, go to Settings > Update & Security > Activation and select 'Go to Store'. The Microsoft store app will be opened where you can purchase a digital license.
That is all for now on activating Windows 10 permanently in 2022. Let me know which of these methods helped you activate your Windows 10 in the comment section below.